'Unique disorder' County Down girl unable to start school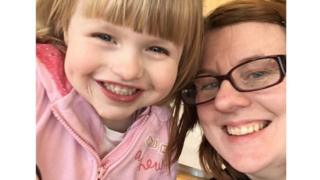 Scarlett Kenny wanted to start school like other four-year-olds in September, but one week into the school term, she is at home because a lack of resources.
Scarlett, from Warrenpoint in County Down, has a rare chromosome disorder that slows her development.
Her mother, Suzanne Kenny, said she needs a full-time assistant and facilities like a changing table.
By Scarlett's start date last week, the Education Authority had only offered her 12.5 hours of "general assistance".
On Monday, Mrs Kenny said it raised its offer to 20 hours a week of general assistance, but not the full 25 hours per week that she would be attending her school - Carrick Primary in Burren.
It has not offered a dedicated classroom assistant, she said, adding that the offer still "falls short of the full-time care Scarlett needs".
"It's still not what we need. In my mind, this isn't over," said Mrs Kenny.
The Education Authority said it would not comment on the circumstances of individual children.
"The individual needs of each child are assessed on a case-by-case basis and the EA continues to work closely with parents and schools to achieve the best possible outcome," said a spokesperson.
"We encourage any parent who may have concerns to raise those concerns with EA directly."
Unique disorder
Mrs Kenny began the process of applying for special assistance for Scarlett in February.
"The process just seems to be very long," said the 40-year-old.
"They did an assessment on Scarlett in March and I got a proposed statement [for assistance] in July. Then it was another month for an amended statement in July."
She said that Scarlett is the only child in the world with her particular disorder - which is so rare, there is no name for it.
It was discovered when she was 18 months old and had yet to hit any of her "milestones" like standing, walking and talking.
Today, she is not yet toilet trained, has severe choking issues and falls a lot.
"I would say she's about three years old in her development. She can talk like a four-year-old and looks perfectly normal, but her behaviour and understanding of things is a lot slower," said Mrs Kenny.
"She still can't take a pencil and draw in circles. You have to talk her through everything."
'Heartbreaking'
The Education Authority's initial offer was to give Scarlett 12.5 hours of classroom assistance a week.
On Monday, the body reviewed its offer, increasing it to 20 hours.
"I still want the Education Authority to give her the full hours," said Mrs Kenny.
"She needs the support within the classroom because you want to keep her peers safe and her safe too.
"I want to make sure that she can keep up with her peers."
"You can't expect the teacher, who has other pupils to look after, to teach Scarlett who has so many needs too."
SDLP South Down MLA Sinéad Bradley said it was "yet another case of the most vulnerable in our society feeling the brunt of political mismanagement".
"It is heartbreaking to watch an already vulnerable child be denied access to her classroom and her education," she added.
Ms Bradley said that she will be continuing her efforts with the Education Authority, the school and Scarlett's parents to resolve the issue.