NI weekly papers: Strabane brawl and border time zones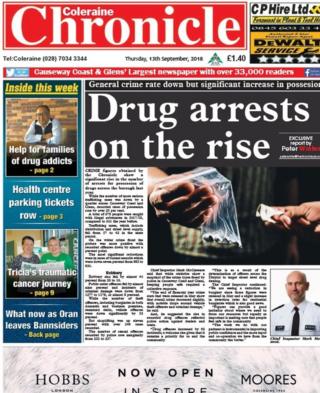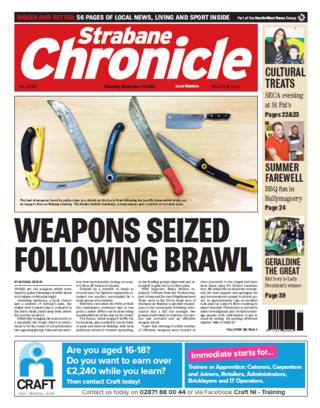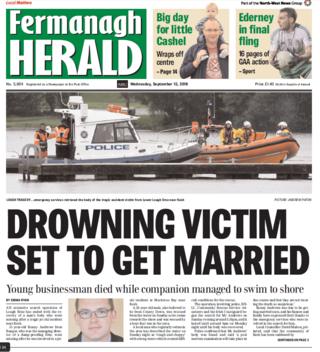 This week's newspapers carry stories that range from the heartbreaking, the horrifying to the unusual.
The Down Recorder reports that demand for suicide prevention support in the area has doubled in the past year.
It says PIPS Downpatrick has already helped twice as many local people in the year to date as it did over the whole of 2017.
Those needing help include teenagers and children.
"Some children as young as nine are having severe problems with anxiety and self-esteem," the paper says.
Volunteers at the charity are now preparing for the most demanding month of the year - October.
Brenda McAteer of PIPs tells the paper: "October is the worst month for us, not December as some might think. It's just been horrendously busy over the last three years.
"We always brace ourselves as the nights turn dark and financial pressures begin to pile on," she added.
Ms McAteer said that between the ages of 14 and 18, the majority of callers would be female, however, over-18 callers are primarily young men.
She believes pressure to succeed in school and work as the main reason behind the increased levels of anxiety.
"Striving for success is great, but at what cost to your mental health?" she asks.
'Fermanagh time'
The Fermanagh Herald has an interesting story on the implications of Brexit on future time zones: "Noon in Blacklion, but 1pm in Belcoo," reads its headline, as it examines EU proposals to scrap the seasonal changing of the clocks.
The phrase 'Fermanagh time' could have "a whole new meaning after Brexit", writes journalist Roisin Henderson, "following a continent-wide public consultation which overwhelmingly backed the idea".
If the UK didn't follow suit, she adds, "it could be one time on one side of the road in Pettigo and an hour later on the other".
The Herald contacted the DUP to ask if Northern Ireland "should look to London or Dublin" in that scenario, but the leader Arlene Foster, the MLA for Fermanagh and South Tyrone, did not respond.
UUP MLA Rosemary Barton told the paper she did not envisage the scenario arising "given that time zones throughout the world are based on Greenwich Mean Time (GMT)".
"There is quite simply no prospect of Northern Ireland ever having a different time zone to the rest of the UK regardless of who or what is advancing such an idea."
Strabane brawling
The Strabane Chronicle carries a picture of weapons used in "a horrific brawl" in Strabane on Monday night.
A machete, a meat cleaver and a number of serrated saws and blades were located close to a church on the Derry Road, "yards away from where the ruction occurred".
It says the brawl, which stopped traffic and "effectively [brought] the town to a standstill", was understood to be a result of a feud between two groups.
It featured "two shirtless men bare-knuckle boxing on Leeper's Brae", says the Chronicle, and in recorded footage of the event, "a PSNI officer can be seen being manhandled out of the way by the crowd".
Bars and fast food outlets in the area were forced to close early "rather than risk the health and safety of staff and customers", according to publican Raymond Barr.
The police said one person was arrested and a number of offensive weapons were taken away for further examination.
Blood brothers
The Ballymoney and Moyle Times carries an interview with two men who are true blood brothers.
David Logue, 57, and his brother Martin, 56, made medical history when David gave Martin a kidney, despite the fact that the brothers were from different blood groups.
That was in 2013. Now Martin Logue tells the paper: "I have been given real hope that I will live to enjoy my life."
His brother David has no regrets about his decision to give his brother a kidney.
"I'd do it again in a heartbeat," he tells the paper.
Martin is now back in full-time employment and getting on with life. Without donors, life for people like him would be very bleak, he says.
The brothers have urged more donors to come forward.
The paper also features the story of another deep bond - Dominic Graham has taught Irish dancing for 40 years and he tells the Times that he hasn't finished yet.
To celebrate the years, the Dominic Graham School staged a three-night show at the Riverside Theatre, called 'Never Ending Bond'.
Dominic started teaching as a teenager in Ballycastle 40 years ago. The musical charts his past.
"It's a two-hour journey into 40 years of a life-time bond," he said.
"After teaching thousands of people throughout the area, it's time to reflect on what has been an amazing four decades in dance."
The Lurgan Mail gives an insight into the horror of armed robberies that are causing residents in rural communities to feel unsafe in their homes.
A close friend of one family in Aghagallon said their lives have been "turned upside down" following a burglary in the early hours of 7 September.
Family traumatised
"Four men in balaclavas... began to bash the door with a sledgehammer, shouting to those inside that they had a gun and demanding to know the whereabouts of the safe."
Despite the fact that the robbers left with little, the friend said, the family were left "very shaken up".
"This is just one of a number of burglaries recently. Some of those have also involved violence and left people terrified," said the friend.
Equality in science
The Lurgan Mail also reports that world-renowned physicist Prof Dame Jocelyn Bell Burnell has donated a $3m (£2.3m) prize in an effort to increase diversity amongst leading scientists.
Dame Bell Burnell was overlooked for the Nobel Prize in 1974, with senior male colleagues involved in the work on pulsars being awarded the honour instead.
The Lurgan College educated scientist told BBC Radio 4's Today programme she did not need the "shocking" financial reward from the Breakthrough Prize and that she hoped the money would be used to support female and ethnic minority physicists.
Parking woes
The Coleraine Chronicle carries a plea from local councillor William McCandless for a "period of grace" for patients who received Penalty Charge Notices, unaware of the new parking restrictions.
Among those who got a ticket at Killowen Medical Centre was Thelma Lynch, who is 83 years old.
She said she had parked in her normal disabled space and came back to a ticket with a penalty of £60 if paid in 14 days or £100 after that.
Mr McCandless said he had had a number of complaints and was asking for a one-month period of grace for patients.
"I have requested a meeting to discuss waiving the fee for anyone unfortunate enough not to have noticed the new signs," he said.
Finally, the familiar saying that black cats are lucky, does not always ring true.
The Coleraine Chronicle reports that they are not quite as popular as their coloured cousins.
Unwanted black cats
The Cats Protection Coleraine branch say they are taking in more black or black and white cats than any other.
"Unlucky black cats need new homes," reads the headline and the paper carries cute pictures of Raven, Eris and Erebus.
"The unfortunate thing for these cats is that not only do we have more of them coming in, they are also much harder to find homes for," said Alison Hagan.
"They often get overlooked by prospective owners who would rather adopt a more unusual colour, like ginger or tabby cats which are very popular."