Man jailed for 14 years for raping nine-year-old girl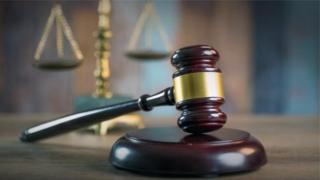 A man has been jailed for 14 years for the rape of a nine year old girl during a game of hide and seek.
Richard Francis (37) of Willoughby Place in Enniskillen, was found guilty after a 10 day trial at Dungannon Crown Court in May this year.
He had denied two counts of rape and two counts of sexual assault on various dates during 2006.
Francis later re-established contact with the victim who told him: "You are as bad as Jimmy Savile.''
He first sexually abused the child when he was 26, when the girl was playing with other children.
'You should be in prison'
Francis lived nearby and often joined in the children's games, despite the significant age gap.
During one game, Francis took the girl into a shed, where he touched her under her T-shirt and warned her to tell no one.
The next occasion his behaviour escalated to rape.
During another incident, to ensure they "would not be disturbed", he locked his sister in her bedroom before raping the victim.
Text exchange
Several years after Francis stopped abusing the girl, he initiated text contact.
Some of the exchanges, which he denied sending, were read in court.
In one text the victim challenged Francis stating: "I was nine. You raped me."
He replied: "I'm sorry ... I hope to be dead soon."
The victim said: "Sorry isn't good enough ... Was I the only one you raped?"
Francis said: "Yes. I thought you wanted me to."
She replied: "I was nine. I wanted to be the Queen then."
In another text, she told him: "You should be in prison you ignorant, arrogant, rapist. You are as bad as Jimmy Savile."
'Severe psychological harm'
Despite Francis' denials, the jury returned guilty verdicts on all counts after deliberating for around an hour.
Passing sentence at Dungannon Crown Court, sitting in Belfast, Judge Neil Rafferty QC said a victim report showed that the complainant had suffered "severe psychological harm''.
The judge noted that while the report was being compiled, the victim "cried'' and she had "difficulty in coming to terms with what happened to her''.
Judge Rafferty said the prosecution had outlined a number of aggravating factors in the case; the victim's age and vulnerability and the significant age difference between her and the defendant.
Protection Order
Francis was jailed for 14 years for one count of rape and sentenced him to 14 years concurrent on the second rape charge.
He also sentenced Francis to 30 months concurrent on each count of indecent assault.
Francis was made the subject of a sexual offences prevention order (SOPO) for a period of 15 years, barred from working with children and vulnerable adults and ordered to have no contact with a child under the age of 16.