Lurgan man David Lyness will serve 18 years for murder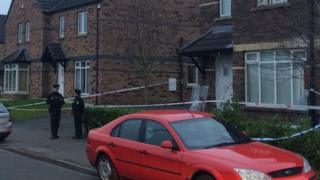 A Lurgan man has been sentenced to a minimum of 18 years in jail for murdering his fiancée by cutting her throat.
Belfast Crown Court heard 52-year-old David Lyness had a fascination with knives and committed a "cynical act of murder".
Anita Downey bled to death on the floor of his Toberhewney Hall home in the early hours of 20 January last year.
Mrs Downey's ex-husband said the family would have preferred the death penalty.
Stephen Downey said: "Honestly, my children would like the death penalty but there is no death penalty, so life imprisonment - meaning he doesn't get out at all - would be better for us and the community, because he is a dangerous person."
Mrs Downey, 51, who was also from Lurgan in County Armagh, suffered a wound to the left side of her neck which extended back to her spine and severed her jugular vein.
Lyness showed no emotion as Judge Geoffrey Miller QC spoke of the impact the "chilling" murder has had on the victim's family.
'Lynchpin of family'
The court heard Mrs Downey, who had three children with her ex-husband, was the "lynchpin" of her family, with her father Thomas Doran speaking of "a huge void that will never been filled".
Lyness, who has an extensive criminal record for offences including wounding and possessing knives, denied murdering his partner and instead claimed that during an argument after drink had been taken, Mrs Downey came at him with a knife she lifted from his kitchen.
The father-of-three told police that during a "frantic struggle" when he tried to disarm her, they both ended up on the floor where he noticed blood coming from her.
It was also Lyness' case that when he realised Ms Downey was dead, he tried to take his own life by cutting his own throat, then lay beside her cuddling her and waiting for the emergency services to arrive.
This version of events was rejected by the jury, who relied on other evidence they heard during the three-week trial - including an eyewitness account from Lyness' son, who was 21 at the time.
After observing the couple arguing in the living room, Shane Lyness saw his father straddling Mrs Downey and attacking her with a knife.
Lyness' version of the fatal wound being caused accidentally was also rejected by assistant state pathologist for Northern Ireland Dr Christopher Johnson.
He concluded: "You couldn't get a wound like that simply as the result of an accident."
Lyness was called to give evidence during the trial, and while he answered a handful of questions put to him by his own legal representative, he accused his own barrister of asking him to perjure himself.
He then refused to answer any further questions put to him by his own legal team - and later withdrew instructions to them.
'Clear, deliberate murder'
Judge Miller branded Mrs Downey's death as a "clear, clinical, cynical act of murder".
Saying Lyness made a "deliberate decision" to arm himself, he told the court: "This was not the loss of temper rising out of a quarrel between two people who knew each other."
The judge added that in the aftermath of the attack, Lyness failed to obtain any medical attention for Mrs Downey.
Judge Miller also noted the murder was committed in front of Lyness' own son, who then had to give evidence against his father in court.
He added that this displayed "the callous disregard" the killer had for anyone "other than himself".
No mitigating features
Regarding Mrs Downey, the judge said that after reading victim impact statements and being shown family photographs, "a sense of the real Anita Downey emerges", which he noted was in "stark contrast" to the picture painted by Lyness.
In his statement, Mrs Downey's father Thomas Doran said: "I will never be able to articulate the pain and loss I feel every day.
"Anita was happy-go-lucky, she enjoyed life and had a great sense of fun. She was a warm and generous person, and I couldn't have wished for a better daughter. She was a wonderful mum to her three children and her loss has left a huge void that will never be filled."
Judge Miller also spoke of an apparent fascination Lyness has with knives, revealing to the court the attacker used to carry a meat cleaver in his jacket and sleep with a machete in his bed.
He also noted his criminal record includes previous attacks on women in a domestic setting.
After taking less than two hours to deliberate at the end of the trial in June, the jury returned a unanimously guilty verdict on Lyness.
'A ray of sunshine'
Addressing the murderer, Judge Miller told him there were no mitigating factors in the case.
He will serve a minimum of 18 years of the life sentence in prison before he is considered eligible for release by the Parole Commission.
Lyness showed no emotion as he was led from the dock in handcuffs, past his victim's family in the public gallery.
Speaking after the verdict, Mrs Downey's ex-husband Stephen described her as "the happiest person you could ever meet" and "a ray of sunshine on a cloudy day".
Her cousin Christine Lavery said the family have been left "totally devastated".
She added: "It's awful what he did to her. On a personal level, I'm distraught. I have lost not only my cousin, but my best friend."