Thousands of NI customers face energy price hikes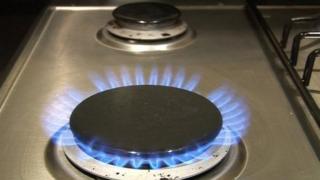 Thousands of Northern Ireland gas and electricity customers will face increased energy costs this autumn.
SSE Airtricity has announced an 18% increase in its electricity tariffs.
At the same time, it announced a 11% increase in gas prices for domestic and small business users in Greater Belfast.
The company blamed the increases on rising external costs outside its control.
David Manning, director of home energy at SSE Airtricity, said: "We're disappointed we have to announce increases in our gas and electricity prices at this time.
"Unfortunately this decision is unavoidable due to the sustained increases in wholesale fuel and transportation costs over the last 12 months."
'Savings'
Mr Manning said the company would continue to focus on providing its customers with "the value, outstanding service and low-carbon energy they expect from us".
He added the company would pass on any savings when it could.
The firm said the tariff changes would see the average household electricity bill increase by £1.66 a week, and gas bills by £1.08.
SSE Airtricity has approximately 173,000 electricity customers and 152,000 gas customers.
The increases have met with criticism from the Consumer Council.
Its chief executive, John French, said: "SSE Airtricity are the third energy company to announce price increases this month. However, its unregulated electricity increase is higher than the regulated Power NI increase of 13.8%, announced earlier this month.
"SSE Airtricity needs to explain this difference to its customers."
He called on the industry to provide further innovation in its tariff packages to make it more attractive for customers to switch suppliers.
'Scrutiny'
Commenting on the gas price hike, Jenny Pyper, the Utility Regulator's chief executive said: "We carried out extensive scrutiny before approving this tariff change as we understand increases in energy prices are never welcome and add to pressures on households and businesses.
"We act on behalf of customers to regulate the prices that SSE Airtricity Gas Supply can charge in the Greater Belfast area and have carefully reviewed each element of this new tariff to ensure it is justified."
Ms Pyper said the main reason for the increase was a significant rise in global gas costs since the tariff was last set in April, and there had also been a small increase in transmission charges.
The gas tariff increase will come into effect from 1 October this year.