NI papers: The littlest GAA fan and re-building Primark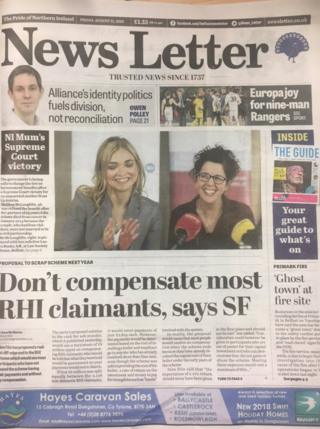 A bittersweet picture leads the Belfast Telegraph - the young widow of a GAA player with the couple's seven-week old baby.
Ballerin GAC footballer Shaun Mullan died in road accident in November before his baby daughter Ellen Rose was born.
His wife Sinead says they will be in the crowd for Sunday's All-Ireland SFC final against Dublin at Croke Park, with baby Ellen wearing Derry colours.
She says baby Ellen has been a hit with her late father's teammates.
"She had supposedly big and tough Gaelic footballers cooing all around her. She would have been the apple of Shaun's eye."
Also on the front page - There's a glimmer of hope for Primark after Tuesday's fire.
Much of the interior of the historic Bank Buildings on Castle Street has fallen in but the paper reports that engineers believe they can save the front of the historic Bank Buildings.
Chamber of Commerce president Rajesh Rana says a facade retention system will be used in a bid to save the building.
However a conservation architect has warned that it "could take up to five years to restore".
The Irish News leads with the recent smelly problem in County Tyrone.
Auchnacloy was covered in muck after a "pungent" spillage on its main street.
The "paste-like" material is understood to be a dairy by-product used as feed supplement for pigs.
Brian Sherry, who owners a local Chinese says it's the first time he's had to pull down his shutters in seven years of business.
"It has been a big blow to us", he said. Mr Sherry adds that there's "still no word on what caused it".
The paper's editorial warns that residents and business owners deserve some answers about the waste spill.
The News Letter leads with a victory - The unmarried mother who won a landmark court case over which could allow her to claim a Widowed Parent's Allowance.
Mother-of-four Siobhan McLaughlin, from County Antrim, lived with her partner for 23 years but never married, which meant she was not able to claim the benefit when he died.
On Thursday, The Supreme Court ruled this was incompatible with human rights law.
Ms McLaughlin and her lawyer Laura Banks beam from the front paper of the paper.
"For me - this was always about the rights of bereaved children," she says, adding that she hopes her case will give others the confidence to challenge any unfairness in laws.
The funeral of a Northern Ireland football legend will take place later at Burnley FC, reports the News Letter.
Jimmy McIlroy, who has been described by Burnley as their "greatest player" was from Lambeg in County Antrim.
McIlroy, who was one of the World Cup Squad who made it to the quarter finals in 1958, died last week, aged 86.
Burnley's stadium, Turf Moor, has a stand named in McIlroy's honour.
The service will be broadcast and Burnley players wore black armbands at last night's match against Olympiakos.