Parents' Evening: Balancing dreams and schoolwork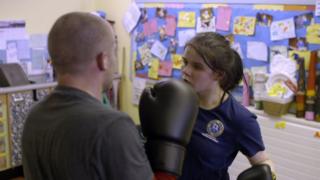 A mixed martial arts fighter, a ballet dancer and an aeronautical engineer may not be the most common jobs to come up at a parents' evening.
But these are the ambitions of some of the students at Malone Integrated College in Belfast.
What happens, though, when the dreams of pupils come up against the realism of their teachers?
The results can be seen in a new BBC NI programme, as Years 12 and 14 at Malone prepared for their last parents' night ahead of their GCSEs and A-levels.
Balancing hopes and dreams
Normally what happens between parents, teachers and pupils at such events goes no further than the exchange across the table.
But the three part series, Parents' Evening, allows viewers to sit in as the school and the families try to find a way to balance pupils' hopes and dreams with the reality of schoolwork.
The first episode follows Rebecca, Luc and Pedro through the discussions between parent and teacher.
Rebecca is in Year 12 and wants to be a mixed martial arts (MMA) champion.
"I have so much homework and like, I've to go to training," is how she summarises her struggles with the training/school balance.
School is very much a second option for her if all else fails.
"I could fall back on school, I could go back to school when I want," she says.
Her mother Claire is not so sure, and neither is the school's vice principal, Mrs Moore.
"I know that this is a really, really, important year for you and I know that your focus is very much on the future and your sport and everything else, but I would not be doing my job if I did not say you need to be ready for Plan B."
And Plan B is schoolwork.
Afterwards Rebecca's mum says she just wants her daughter to be happy - and to have something to fall back on if martial arts does not work out.
Luc, also year 12, is aiming for life on the stage and has had major roles in productions of Oliver and Billy Elliot.
"I am at my happiest when I am dancing," he says.
"My weekly schedule is Monday I have piano and then I have ballet, and then Tuesday is just ballet.
"Wednesday is a class of ballet, then jazz and contemporary and then Friday is ballet again.
"Saturday I have my theatre stage school and then Sunday I have my drama."
His mother Gillian wants to put Luc's education centre stage.
"At the moment it would have to be Luc's education that would have to come first because, well, we have talked about it a lot," she says.
"You cannot dance your way through life.
"You still have bills to pay."
Pedro, who is year 14, has his sights set on academic success and he has had work experience at Bombardier and Montupet.
He wants to go to university and knows that hard work lies ahead.
The message that comes out of his meetings is that he is a hard worker, but more is needed.
"I was nervous at the beginning, but I think I am much better now, because the teachers gave me a boost," Pedro says.
His mum, Maria, has her own recipe for success - more work and no computer games.
All the families agreed afterwards there was hard work ahead.
Parents' Evening is on BBC One NI at 22:40 BST on Monday 3 September.