Brexit: Dominic Raab says Irish border deal is no nearer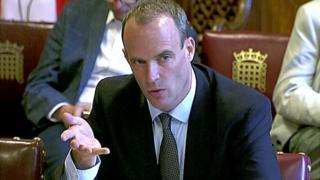 The Brexit Secretary has admitted that there has been little recent progress on the issue of the Irish border.
"I don't have the solution to give you yet," he told a House of Lords Committee.
Mr Raab added that "detailed" and "interesting" work on the border was continuing.
However, he said he is confident a general withdrawal deal with the EU is "well within our sights."
He said he could not share any further details of that work to protect the integrity of the negotiations, which he said were about 80% complete.
The EU's chief Brexit negotiator Michel Barnier also described the deal as 80% agreed - but that was at the beginning of July.
The main sticking point is still the issue of the border "backstop."
EU 'open to new solution'
It is the arrangement which will apply if the Irish border cannot be kept as frictionless as it is now in the context of a wider deal.
The EU has proposed a backstop that would mean NI staying in the EU customs union, large parts of the single market and the EU VAT system.
The UK government has rejected it as a threat to the integrity of the UK, and has suggested a backstop that would see the UK as a whole remaining aligned with the EU customs union for a limited time after 2020.
That proposal contained nothing about single market regulatory issues, which are probably more important than customs in terms of maintaining a soft border.
Mr Raab said: "We're not going to see a customs border drawn down the Irish Sea. We're not going to do anything which would imperil the Belfast Agreement.
"The prime minister has been clear that the EU proposals were unacceptable.
"Michel Barnier has also confirmed he is open to new solutions on the backstop and he has said the backstop we eventually agree on is not necessarily going to be the one the Commission came up with."
Meanwhile, speaking in Berlin, Mr Barnier said the bloc was prepared to offer the UK an unprecedentedly close relationship after it leaves the EU.
However he again emphasised that the EU would not permit anything that weakened its single market.