NI wheelchair basketball player shows his mettle with global gold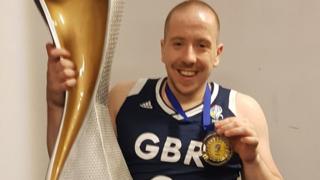 You often have to dig deep to strike gold and Northern Ireland wheelchair basketball player James MacSorley has proved he has the mettle to deliver.
The Belfast man, 23, who was born with spina bifida, has displayed character and commitment to forge a full-time career in the sport since being introduced to it by his mother Anne as a six-year-old.
Last weekend, he made history as the only NI member of the Great Britain men's wheelchair basketball squad to win the World Championship in Hamburg.
The Sheffield Steelers player told BBC News NI he was still digesting his latest success and the entire experience.
"It has taken a while to sink in, from winning the final against the USA, to the celebration and before you know it you are back on the plane to England," he said.
"When I got home, I woke up and went over to my bedside table to look at the medal to check it wasn't just a dream.
"On court, there was a different pace and pressure at the World Championships, there were 3,000 people at some games and it was televised as well.
"It was great to win a first major gold medal."
James made his competitive debut for GB during the tournament, the first man from Northern Ireland to do so.
Despite previously helping the British Wheelchair Basketball Team achieve gold at the Under-23 Men's World Championships in Canada two years ago, he acknowledged the event in Germany was different.
"In my first game, my debut against South Korea, I have never been so nervous, it felt very strange," he added.
"It took me a while to get used to it, the ball had never felt heavier.
"I got some minutes against the USA in the group stages, they were on another level again, they are the gold standard.
"Seeing them on court, they were quicker than I thought.
"I got a good few minutes against Iran in the semi-final and I saw one of my shots go down early on, that got me into the groove and I didn't look back.
"I felt I had not played to my potential until that match and it was nice to know I could play under that pressure."
James' sister Eimear travelled to watch him at the World Championships, along with his girlfriend Anna.
Eimear also has spina bifida, and plays wheelchair basketball for the Carlisle Panthers team in England.
The siblings have continued to pursue their dreams in the sport they were introduced to by their mother Anne who was killed in a road accident in County Donegal in 2005.
"I started playing wheelchair basketball at the age of six at the Knights club in Antrim with my sister Eimear who also has spina bifida," James said.
"From day one, mum never held us back, she fought for us to get into a mainstream school and got us involved in sport.
"I think I get my athletic genes from my mum, and my dad Michael would say that as well.
"Obviously losing her at a young age was massive and I would not wish it on anyone.
"She taught me so much."
Sibling success
The Knights provided the platform for James to develop his basketball skills and his progression has accelerated since going full-time with the Sheffield Steelers last season.
He says it was a "big sacrifice" to make the move to England, but is glad the intensive training ahead of the World Championships paid off.
"During the year, we had a Monday to Friday team session every day, two gym sessions a week, two individual skill sessions and club training one day a week," he added.
"I didn't know what to expect, when I came over at first to England, I was nowhere near selection for the GB team.
"I just thought if I get the head down I might get a spot.
"There is a special bit of pride that I am the first person from Northern Ireland to do this."
James made the move to Yorkshire after graduating from Queen's University in Belfast in 2017 with a degree in Law and Spanish.
Happy in Sheffield he says he is looking forward to competing against his sister Eimear next season.
"Sheffield Steelers won the GB premier division last season. We had six guys from the GB set-up on the team and we also won the EuroLeague 2 final beating Gran Canaria," he said.
"My sister Eimear is still playing wheelchair basketball, her team Carlisle Panthers recently got promoted and will play in the GB premier league next season.
"I have played more games with her than against her, but once you get out there you don't care who is in front of you, you are just focused on the game.
"Before the event, everyone else gets a handshake and she gets a hug, but apart from that she is fair game, although I wouldn't go out to hurt her.
"It would be disrespectful if I played it any other way."
It is that competitive edge which keeps James focused and there are no signs of his enthusiasm for wheelchair basketball waning.
As a teenager he was chosen to carry the flag in front of more than 60,000 people at the Paralympics in London in 2012, and now he wants to achieve gold at the same event in Tokyo in 2020,
"I think it is the same as a lot of athletes, I want to be better," he said.
"I have a gold medal for a few days, but I am already thinking what's next?
"Sport has given me so much that I almost feel I have to give 100% back.
"It is a positive obligation, my life has been changed by it."