Rallies call for return of devolved assembly at Stormont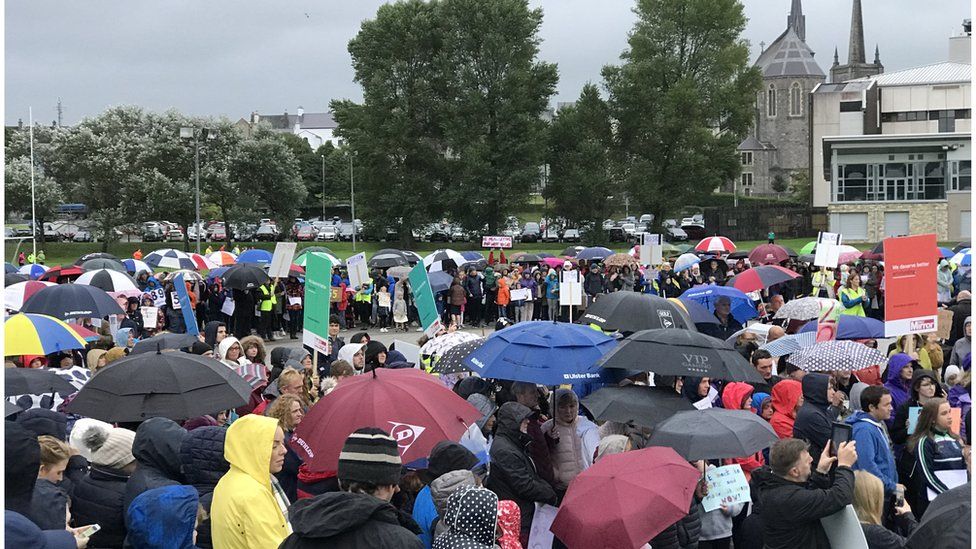 Rallies have taken place across Northern Ireland to express frustration at the lack of a functioning Stormont.
It's been 589 days since the devolved assembly collapsed and Northern Ireland surpasses Belgium for the longest time without a government in peacetime.
The rallies were organised by Dylan Quinn from Country Fermanagh.
The "We Deserve Better" campaign came together after Mr Quinn uploaded a video online expressing his frustration at the lack of political progress,
Hundreds of people attended the Derry and Enniskillen events.
At the scene in Derry: 'Get in or get out'
By Dean McLaughlin, BBC News NI
About 300 people gathered in Derry's Guildhall Square with their umbrellas as the rain poured down.
Nurses, teachers, parents and school children sang songs and held placards reading "we deserve better politics".
One man shouted "get in or get out".
A nurse from Altnagelvin Hospital, who wished to remain anonymous, said: "Hospital waiting lists are breaking my heart.
"The politicians are getting paid. They need to listen to us and the poor patients who are suffering."
Aideen Hughes, who helped organise the Derry rally, said she was never interested in politics but is frustrated at the lack of local government.
"It's simply not right that MLAs are still getting paid. That money could be going to many other sectors that need the funds so badly.
"We have the power. We voted these people in. We also have the power to put somebody else in their position."
Mr Quinn said he was delighted with the turnout in Enniskillen.
"Here in the constituency of what was the first minister it is great that many people come out and say we deserve better.
"Time is up for sitting down on sitting down and doing nothing.
Earlier on Tuesday the DUP unveiled a banner at Stormont saying Sinn Féin were responsible for the lack of devolution.
DUP party leader Arlene Foster said Sinn Féin "need to end their boycott and allow government to happen here in Northern Ireland".
She added: "It is long past the time to get back into government".
In response Conor Murphy, Sinn Féin MLA for Newry and Armagh, said his party had an agreement with the DUP in February but that the DUP walked away from it.
Mr Murphy added: "It would suit them better to carry a banner at a Pride parade supporting the rights of those people than to be waving a banner out the front of Stormont".