George Mitchell: NI facing 'potentially dangerous moment'
By Stephen Walker
BBC News NI Political Correspondent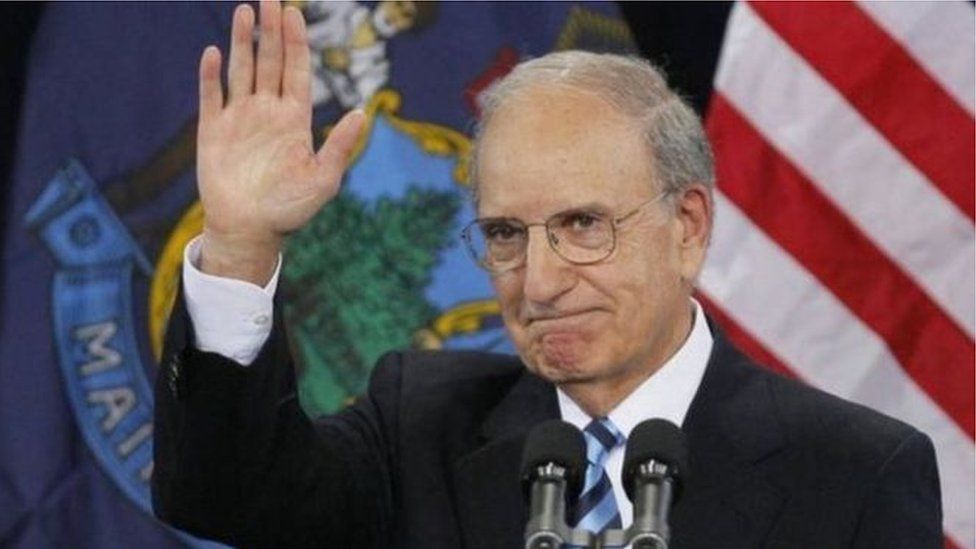 Former peace talks chairman George Mitchell has said Northern Ireland is facing a "potentially dangerous moment" in the absence of devolution.
The ex-US senator was at Queen's University in Belfast on Thursday for a conference on global conflict, co-hosted by the University of Chicago.
"Twenty years of relative peace... cannot be lost because of a vacuum of political leadership," he said.
The Queen's University conference was also attended by other key figures from that period, including the former First Minister Lord Trimble, co-founder of the Women's Coalition Monica McWilliams and the ex-Taoiseach (Irish Prime Minister) Bertie Ahern.
Mr Ahern described the current impasse as a "tragedy".
He added: "I don't think there is any magic solution but I remain optimistic that on the other side of the holidays that the parties will start engaging again."
Former Ulster Unionist Party (UUP) leader Lord Trimble said it was irrelevant to simply have talks, "the question is what are you going to do with the talks?"
"I think it is important that the government has a clear view as to what it wants to achieve and what measures it is going to use.
"Diplomacy is not just a matter of argument, it is also a matter of pressure," he said.
There was also a call for outside mediators to be involved should talks recommence.
Former Northern Ireland Assembly member Ms McWilliams told the conference: "I know plenty who have been involved in the United Nations (UN) with other institutions doing mediation for their whole lives.
"Let's get them in there and let's keep it quiet until we get a way through."