Brexit: Businesses call for clarity in no-deal papers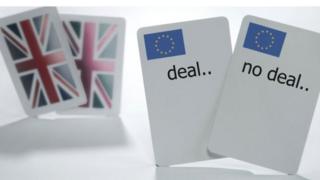 The NI Chamber of Commerce has said government papers on preparations for a possible no-deal Brexit must contain "as much detailed information as possible".
The papers cover 80-plus areas such as aviation safety, road haulage and fishing.
The documents will be released in stages, beginning on Thursday.
They have been drawn up across Whitehall departments and civil servants in NI have provided input.
NI Chamber chief executive Ann McGregor said the papers must provide "clarity".
She added businesses had been "frustrated by the lack of clear guidance on some of the issues that are within the UK government's own control".
Brexit Secretary Dominic Raab is due to give a speech to coincide with the release of the first of a raft of papers, described as EU Exit Technical Notices.
They will advise businesses and the public on what they need to do to prepare for a no-deal scenario.
In his speech, Mr Raab is expected to state the papers will provide information and guidance, with the aim of facilitating the "smooth and continued functioning" of the UK economy.
Under current plans, the papers will be released in three batches, with two further publication dates scheduled for September.