Explosive devices 'crudely hidden and could have killed'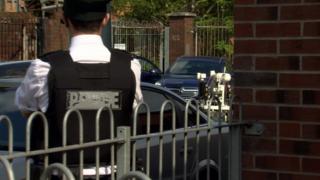 Two explosive devices found by workmen in north Belfast "could have killed", police have said.
Homes and offices were evacuated and dozens of children were moved from a creche after the discovery of pipe bomb-type devices.
They were found close to a community centre in Churchill Street at about 13:00 BST on Wednesday.
It is understood they were inside a bag hidden in greenery, filled with coins and had fuses ready to be lit.
The devices were discovered by two workmen as they cleared ivy away from the front of a property.
As there were children playing nearby, the workers brought the devices to safety and then phoned the police.
A PSNI spokesman said: "These could have killed or seriously injured members of the public walking past the place where they had been crudely hidden.
"Army technical officers carried out controlled explosions on both and they have been declared as viable devices."
Det Sgt Keith Wilson said "such a reckless act should have no place in our society" and appealed for information.
A number of roads closed during the security alert have since reopened.
Sinn Féin councillor JJ Magee said there had been "massive disruption", especially for those that use the community centre.
The Ashton Centre provides a number of facilities including a creche, GP surgery and employment training.
"There was an evacuation, so babies as young as six months old had to be transferred to the nearest day care, which is not too far away," he said.
"But that was just pure luck, these people who planted this device had no consideration at all for these people who live in this area or come here to work.
"We want these kind of incidents to stop, these people are not part of this community, in fact they are against this community."
Paul Roberts, chief executive of the Ashton Community Trust, said people were "really inconvenienced".
"For the local community trying to go to the doctors' surgery, an appointment you have been waiting for, now it doesn't happen," he said.
"Help with a job interview wasn't allowed to be provided."