Saintfield sewage problems lead to building ban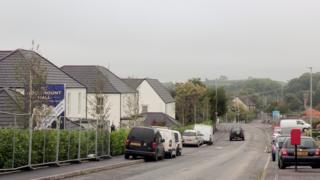 New housing developments have been banned in a County Down village after its sewage system reached capacity.
In recent years Saintfield has experienced a building boom and its population has nearly doubled in the past two decades.
The strain on the sewage system has led to raw sewage flowing from manhole covers on the Old Grand Jury Road after periods of heavy rain.
Northern Ireland Water has now said no more homes will be built.
Resident David Forbes said: "The sewers are lifting. There are children walking through this on their way to school.
"I don't know what could be on their shoes when they get to school or get home. Manhole covers are lifting. It is just madness."
There are two new developments being built on the road, which will provide about 30 new homes.
Planning permission has also been approved another 20 homes on the road, which is half a mile long.
SDLP councillor Terry Andrews said the area has changed dramatically since his childhood.
'All this was green fields'
"Saintfield has expanded that much in the past 20 years that the system that was designed originally simply can't cope," he said.
"I remember years ago as a young fella this place was just green fields."
Councillor William Walker of the DUP said planning permission for the developments on Old Grand Jury Road was granted before councils were given full planning powers in 2015.
He said that the council would adhere to the building but it was not practical in the long term.
"Money needs to be found immediately to deal with this problem," he said.
"But this is just the tip of the iceberg. How many other towns and villages throughout Northern Ireland have a similar situation?"
NI Water estimates that it would cost about £2.5bn to bring infrastructure across Northern Ireland up to what it calls a 21st century standard.
In its current six-year funding period it has been allocated about £990m.
As water and sewage treatment are publicly funded, plugging that gap would have to come at the expense of things like health, education and roads - unless the issue of water charges is revisited.
According to NI Water director of finance Ronan Larkin this would be an issue for a minister and an executive.
"The last executive ruled out water charging for domestic customers so that isn't a scenario we can open up," he said.
"It really is a matter for government to decide the funding model. What we want is a funded model that allows us to build out the plans we develop."
Even if the assembly is restored it may be some time before builders in Saintfield will be allowed to break any new ground.