Belfast International Airport flooded cars 'potential death trap'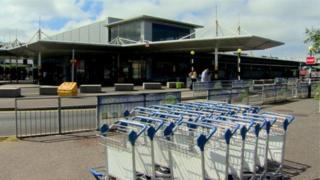 Belfast International Airport has refused to reveal how many cars were damaged and subsequently written off after its car park flooded in July.
BBC Radio Ulster's Nolan Show has heard from one passenger who said staff told her up to 1,000 cars may have been damaged.
She said the airport did not tell her about flooding, which happened after heavy rain on 28 July.
Belfast International Airport have made no comment.
The AA said flooding could cause safety systems to fail.
"You could be driving what could amount to a death trap," the AA's Ian Crowder told the Nolan Show.
The airport was badly hit by heavy rainfall on 28 July.
The Met Office said the airport recorded an "incredible" 88.2mm of rainfall in a single afternoon, more than the average rainfall for the entire month.
Two people who spoke to the Nolan Show said their cars had been parked in a field that is used as an overflow area for the airport's Park and Fly car park.
At least two of the flooded cars have been written off.
BBC News NI cannot verify exactly how many cars have been affected, but it is believed many more could have been affected and potentially damaged by flood water.
Nick Mitford, another Belfast International Airport customer, told the Nolan Show: "The salvage guy who came to take my car away from the insurance company, when I told him it had been flooded he sort of said 'oh, was it up at the airport?'
"Which took me back a little, and I said yes it was and he said. 'oh yeah, there's in excess of 100 cars involved in this.'"
Safety risks
He criticised the airport and said they should have been more open with him as a customer.
"They had my details. Now, I'm not asking them to assess my car or to work out whether or not my car has been flooded or not," Mr Mitford said.
"But I don't think it's beyond the duty of care they owe to me to just inform me that there had been an incident and that I might want to make arrangements not to potentially drive an unsafe car home with my family in it."
Mr Mitford told the Nolan Show his insurance company believed his car will now have to be written off.
A caller into the Nolan Show, Emma, also said her car had been written off after being flooded.
She said that an employee at the airport's Park and Ride told her husband that "there were nearly 1,000 cars affected".
Ian Crowder from the AA told the Nolan Show that there are safety risks around cars that could have been flooded.
"This story raises so many questions and safety is one of the key ones.
"If a car has been flooded water can affect the electronics in the car, it affects the exhaust, it can affect all sorts of aspects of the vehicle.
"If [as one caller suggested] the level of the water in the car was up to the dashboard level then it could well have affected the electronics which manage the airbag.
"The airbag could potentially go off without notice - or not go off if it has to.
He added: "Where water has got into the car, insurance companies almost always will write the car off as a category A or B so that the car is taken off the market and can't be sold."
'Terrifying'
Travel expert Simon Calder described the situation as extraordinary and "terrifying".
"It is extraordinary that a big international airport should be taking this attitude instead of doing what's right for the customer.
"People would of course forgive it. It's going to be an expensive business but it's going to be even more expensive if they refuse to talk to you."
The airport management team is refusing to release any details about what happened, or what rights its passengers have.
But customers are demanding answers.
Caller Emma told the programme: "My car has been written off and I've had confirmation from the insurance company how much they are going to pay out.
"I am not going to be able to get another vehicle for what they are going to give me. And we are going to be out of pocket as a result."
She continued: "I would travel to Dublin now as opposed to flying out of Belfast International Airport."