Bus lane suspended in Titanic Quarter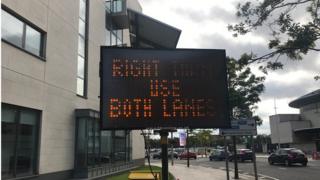 A bus lane which has been blamed for serious traffic problems in Belfast's Titanic Quarter has been suspended.
Motorists have complained of "horrendous" tailbacks on the Queen's and Sydenham roads following the introduction of a new bus lane.
The Department for Infrastructure said the city-bound bus lane on Sydenham Road, opposite the SSE Arena, could be suspended for up to a year.
The bus lanes were phased in to facilitate the city's new glider buses.
BBC News NI reporter Richard Morgan said on Tuesday evening that traffic was flowing much better than it had been.
Extra lane
The Department for Infrastructure said it would introduce an extra section of city-bound bus lane in the Queen's Road area, near the Legacy Building, "in the coming days".
This will connect with the existing bus lane at the Titanic Belfast Building on Queen's Road.
Ciarán De Búrca, from the department, told BBC Radio Ulster's Evening Extra that it could be six to 12 months before the bus lane reopened.
"Belfast Harbour Commissioners are proposing to add an extra lane in the area in front of the SSE Arena, it is going through the planning process at the moment," he said.
"That extra lane will allow us in the future to reinstate the bus lane."
The department said on Tuesday that both it and Belfast Harbour would "continue to work with partners in Titanic Quarter over the coming months to introduce new measures which will enable the Sydenham Road bus lane to be reintroduced".
"Translink will also be engaging with businesses to encourage greater use of public transport and of walking and cycling where appropriate," it added.
Translink said it had worked with the Department for Infrastructure and Belfast Harbour to "address the traffic flows in the Titanic Quarter".
Belfast Harbour has said a relief road due to be opened in the Titanic Quarter will not open until at least Wednesday.
It had said the "interim relief road", between Queen's and Sydenham roads, would help alleviate travel disruption.