Irish department store Guiney's to open in Belfast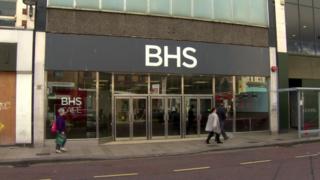 Part of the former BHS site in Belfast city centre is being leased to an Irish department store chain in a 500,000 euros (£448,850) investment.
Guiney's is due to open a Belfast outlet at the end of November, creating 20 jobs.
BHS closed in August 2016 with the loss of 57 jobs and the site has been vacant since the company's collapse.
Guiney's has 10 stores across Ireland, including in Dublin, Cork and Limerick.
The Belfast outlet will be about 21,000 sq ft (1,950m) - it is the smaller portion of the former BHS site.
'Really suits Guiney's'
The company's managing director Gretta Guiney said that because Belfast "provides consistently strong retail figures" it was viewed as an "excellent opportunity".
"The location is so good and the size of the building really suits Guiney's because it allows us to offer all the products we have," she added.
"We'll see how Belfast goes and if it's positive, which I'm nearly certain it will be, then we will look at opening more stores in Northern Ireland."
She said the "uncertainty of Brexit" did not stop the company from venturing north of the Irish border.
"Brexit's not really coming into it, as no-one knows the impact anyway.
"It's going to have an impact on our stores in the south."