Bomb left under police officer's car 'attempted murder'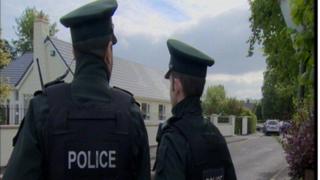 A retired police officer has told Belfast Crown Court she disturbed a man while he was putting a bomb under her husband's car.
The officer said she saw the man underneath the car in the early hours of the morning at their home in Londonderry in June 2015.
Giving evidence from behind a screen, she said she banged on her bedroom window and the man ran off.
The car belonged to her husband who was also in the PSNI.
In a statement read to the court, the police officer said she didn't know why she woke up so early.
She said: "I had a gut feeling something was wrong."
Device had 'potential to kill'
After she dialled 999 she said the "sheer disbelief of what had happened hit her".
A prosecuting lawyer said the device - which police discovered was a bomb with a mercury tilting mechanism - had the potential to kill the driver if it had exploded.
Sean McVeigh (37), of Victoria Street, Lurgan, is on trial accused of attempted murder and the possession of explosives with intent to endanger life.
The prosecution say he was one of a number of men involved in the attempted bombing.
The prosecution said he was detained in the Republic after a police chase sparked by two cars driving through a checkpoint on the Foyle Bridge.
The prosecution say both cars were stolen and had fake number plates.
Detained a year later
After he and two other men were arrested Gardai found gloves on the road nearby. Those gloves later tested positive for explosives.
Tests on Mr McVeigh's jacket and tracksuit trousers also tested positive for explosives.
Mr McVeigh was detained by PSNI officers almost a year later when he was on a train at Portadown.
A defence lawyer asked the retired police officer if she recognised the face of the man under her husband's car. She said she couldn't.
The non-jury trial continues.