Coleraine school to appeal A-level grades after exams lost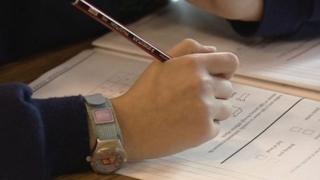 A school is to appeal A-level grades awarded to pupils by an examination board after exam scripts were lost in the post.
Students of Media Studies at Coleraine Grammar School were awarded final grades based solely on their coursework mark.
Twenty-two pupils have been affected.
The examination board responsible for the scripts said it was trying to trace the missing paperwork.
In a statement, the Welsh Joint Education Committee (WJEC) said: "It is the school's responsibility to ensure the exam scripts are sent securely, and we advise centres to send them via secure means.
"We are in contact with the company that the school used to do all we can to trace the missing scripts."
'Absolutely horrified'
Speaking to BBC Radio Ulster's Nolan Show, Lesley McCartney said she was shocked to discover her daughter Holly had been awarded a B grade based on coursework done earlier in the year.
"We were absolutely horrified and there was no letter of explanation from the school to us that morning, not even to say what they were going to do or what they had done for us.
"We got a letter from the school on Saturday morning, a little too late, it should have been sent out when they were aware the exam papers had gone missing on," added Mrs McCartney.
The principal of Coleraine Grammar, David Carruthers, said he only became aware that the scripts had gone missing the day before the results came out and that a formal appeal is now being lodged against the marks awarded.
Dr Carruthers added that the school has evidence of their posting arrangements, and that the examination board has offered no explanation as to how the scripts got lost.
"The school regrets that this has happened at what is a stressful time for pupils and parents. We will work with pupils, parents, universities and the examination board to resolve matters as soon as possible," he said.
In a statement the WJEC said: "Our experienced team used all the evidence available to them to apply approved statistical methods to ensure that students' overall results were not negatively impacted by this incident."