UUP says legacy consultation period should be extended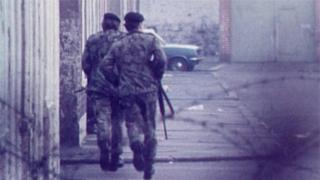 The Ulster Unionist Party has said the government should extend its consultation period on dealing with the past.
The government is currently consulting on how to address legacy issues and has asked for responses by 10 September.
However, UUP MLA Doug Beattie has said the consultation should be extended by an extra month.
Mr Beattie said victims groups and individual families need more time to respond to it.
The assembly member said the secretary of state should extend the consultation process to "maximise the chances of as many people as possible being able to make their voices heard".
The government's consultation paper, entitled 'Addressing the Legacy of Northern Ireland's Past', was launched in May.
The legacy document outlines plans for:
An Historical Investigations Unit which would have a caseload of about 1,700 Troubles related deaths and aim to complete its work in five years
An Independent Commission on Information Retrieval, which would only look for information if asked to do so by families
An oral history archive which would collect recorded memories and stories about the Troubles in one place
An implementation and reconciliation group with 11 members representing the UK and Irish governments, along with the five biggest Northern Irish political parties