Queen's student union archives shine light on the past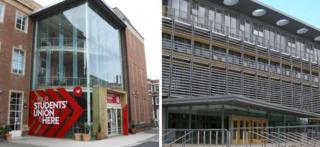 A new batch of first-year students will be starting Queen's University Belfast next week, but the focal point for freshers - the 52-year-old student's union building on University Road - has closed its doors ahead of a three-year rebuild project.
For most new students, a temporary union divided between Elmwood Avenue and the Lisburn Road will be the only one they know until they graduate in 2021.
It's to make way for a new facility encompassing "collaboration areas", a "social stair" and "pop-up retail", according to the university's website.
Although there's no denying the architectural plans for the new structure make the old one look archaic in comparison, the soon-to-be demolished union had a history and character that can't be denied.
Over six decades, it has seen a variety of well-known names pass through its doors and kick-started many a political or journalistic career in terms of its former presidents and student newspaper contributors.
So before they moved, staff at the University Road building made public a collection of memorabilia that shines a light on student experiences and attitudes from 1966 to the present day.
The selection of photos, posters and publications include some familiar faces in younger days, some brave fashion choices and a few interesting perspectives on the issues of the time...
The building
Before it became the students' union, the building on University Road was the old Elms student accommodation, pictured above left.
The site was first developed in 1859 by Thomas Gaffikin as a terrace of seven five-storey houses, but Queen's purchased the terrace in 1920 and converted the properties to student accommodation in 1936.
In a move that heritage trusts and others would no doubt object to today, the old terrace buildings were demolished in 1963 and the soviet-style construction that replaced it became the new students' union.
The peer
Former Ulster Unionist MP John Taylor - now Lord Kilclooney - sent this letter to the 1988 deputy president of the students' union, Gearoid Ó Muilleoir.
Mr Ó Muilleoir, who later became a journalist, had been inquiring about student grants.
Lord Kilclooney's reply stated: "Since your name is clearly unpronounceable, I have, rightly or wrongly, concluded that you are Irish and not British.
"I therefore suggest that you, and those whom you represent, apply for any necessary grants to the Dublin government."
The presidents
TUV leader Jim Allister ran for president of the students' union as a law undergraduate in 1975.
His manifesto stated that he had "become well known for his persistent questioning of Executive policy and for his determined opposition to their misuse of power for political ends".
Mr Allister stood against Hugh Cox, who won by around 300 votes.
Mr Cox recalled that he was paid £1,200 per annum, plus £840 in expenses.
He later went on to manage student unions in Northern Ireland and England.
Now retired, he volunteers as a traditional music teacher for children with disabilities or special needs.
The North Antrim MLA, meanwhile, did indeed become well known for his persistent questioning of another Executive's policy, before it collapsed...
The president-in-waiting
This young law student went on to become the eighth president of Ireland from 1997 to 2011...
Mary McAleese graduated from Queen's in 1973 and was called to the Northern Ireland Bar in 1974.
A year later, she was appointed professor of law at Dublin's Trinity College.
In 1987, she returned to Queen's to become Director of the Institute of Professional Legal Studies and became the university's first female pro-vice-chancellor in 1994.
The pin-ups
PTQ is thought to be the longest running RAG ("Raise And Give") magazine in the UK. It was launched in 1927 to raise funds for local charities.
The publication has been traditionally associated with its cover girls, which were introduced in 1949, although the title of "Miss PTQ" was not bestowed until 1956.
By the 1990s, PTQ cover girls were much less inclined to pose semi-naked. Karen Kirby, pictured below, went on to become commissioning executive for BBC Gaeilge.
Commenting on her photo shoot, she told BBC News NI: "I remember it was down along the shoreline in Jordanstown or somewhere, and it was freezing.
"We had a casual-wear and a formal-wear picture to do. Mr PTQ that year was a guy called Naoise Curtis-Nunn.
"The picture of us in the formal wear looked like that awkward first dinner dance or debs' night from school - good times!"
The 'depraved' Gown
The Gown is also one of the longest-running independent student papers in the UK.
Founded in 1955 by medical student Richard Herman, its aim was to hold the university and its students' union accountable to the students of Queen's.
According to its Facebook page, past contributors include former Irish Times foreign correspondent Conor O'Clery, the Irish Independent's Brendan Keenan and the BBC's Nick Ross, Mark Carruthers and Maggie Taggart.
Swinging sexes
In 1968, Queen's University's student population was 27% female, 73% male.
In the last term of 2018, it was 61 per cent female, 39 per cent male.
Sexist entertainment?
In a 1980 vote on whether "so-called sexist entertainment" - such as "topless go-go dancers" - should be provided in the union at regular intervals, the No vote won, despite almost 300 votes in favour.
B-ad graffiti
In the summer of 1964, three students from the Belfast College of Technology hid in Belfast City Hall, armed with paint and brushes.
During the night, they scaled the building and painted PTQ on the roof.
Big bands
Although punk godfather Terri Hooley wasn't a Queen's student, he went down in union folklore for bringing The Undertones to play their first ever gig at the Mandela Hall (then called the McMordie Hall) in 1978.
Other bands who performed in the hall before they were famous include U2 and Radiohead.
Speaking to BBC News NI, he said of this photo: "That's me in 1971... the girl was Breidge, but I can't remember her surname."
British DJ Grooverider, above was among many big names in the dance music scene to play at the Mandela Hall's weekly Shine nights, the first of which was held in 1995.
BBC Radio 1's Annie Mac led the line-up for the final night earlier this summer.
'Beginning of the Paxman era'
This 1994 University Challenge team included, from left, Stephen Farry - who later became Alliance MLA and education minister - Kathy Ayers, Nicholas Whyte, and Peter Whitcroft.
"That was the first series after a break of quite a few years and the start of the Paxman era," Stephen Farry said.
"We got past the first round as a high-scoring runner up and were beaten by Trinity College Cambridge in the second round - Kwasi Kwarteng [the Conservative MP] was on their team.
"Cambridge went on to become the eventual winners."
Nicholas Whyte later became a political analyst and director of public affairs corporation APCO Worldwide.
Creche costs
And finally, an advertisement guaranteed to bring a tear to the eye of any working parent who struggles with childcare costs...
In the late 1970s, a mere £3.75 covered the cost of an entire week of daycare at Queen's Crèche for student parents, although it jumped to £9.25 for working parents.
The College Gardens and Rugby Road facilities now charge more than £40 per day.
As you were, folks... nothing to see here.