Titanic Quarter bus lane tailbacks 'horrendous'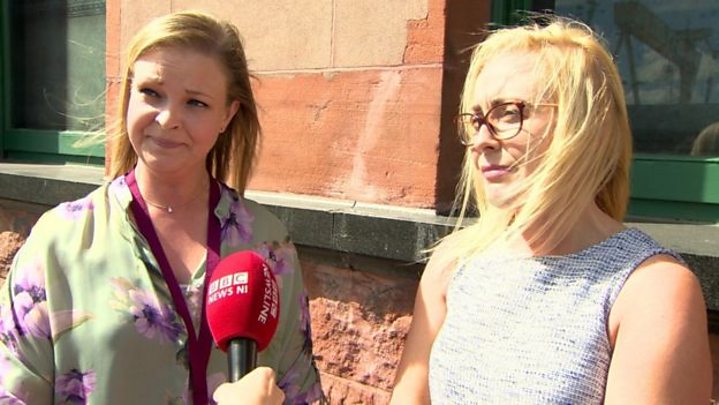 New bus lanes in east Belfast are continuing to cause problems for commuters.
Motorists have complained of "horrendous" tailbacks on the Queen's and Sydenham roads following the introduction of a new bus lane.
The Department for Infrastructure (DfI) said delays had been "greater than anticipated" and it would revise traffic light timings in the area.
The new road layout will accommodate Belfast's new Glider system.
The Glider buses which will use the lanes have been described as "a tram on wheels" and will run approximately every seven to eight minutes, linking east Belfast, west Belfast and the Titanic Quarter with the city centre.
However, on Thursday, Titanic Quarter commuters told BBC NI's Newsline programme the traffic problems are "absolutely horrendous".
"It's a bottleneck - hundreds and hundreds of cars," said one woman.
Another told the programme: "A usual journey for me would be 15, 20 minutes. It could be anything from 50 minutes to an hour now."
In a statement on Friday, DfI said it "recognised the concerns of those caught up in traffic in Titanic Quarter and has made changes to try to alleviate the problem".
The statement requested patience from drivers, adding: "Any change needs to be seen over a period of time to see what the impacts are on the traffic situation.
"At peak times, the road network in Belfast is at full capacity or over capacity. With new development the number of cars on our roads will continue to grow and this will make the situation worse if we do not act."
A spokesperson told the BBC that "variable messaging signing" had been added and changes had been made to traffic signalling in the area in an effort to improve the flow of traffic.
Alliance Party Leader Naomi Long said she believes the system needs to be temporarily suspended.
"Undoubtedly we need a rapid transport system... but this is not the solution.
"What we have here is gridlock, when a week ago we had free-flowing traffic," she told Radio Ulster's Evening Extra programme.
The East Belfast MLA said the congestion has created "a very poor reflection on the Glider system before it has even started".
Mervyn Watley of Catalyst Inc said he and other businesspeople in the area are concerned that they may lose employees as a result of it.
"We're worried staff will just get fed up with this daily commute and look for other jobs," he said.
"Certainly Belfast needs a better transport system, but just looking at the queues, even if the buses were full every hour, we would still have congestion here."
Meanwhile, Translink and the Belfast Harbour Police both said they were working to improve traffic flow in the area.