European law firm creates 125 new Belfast jobs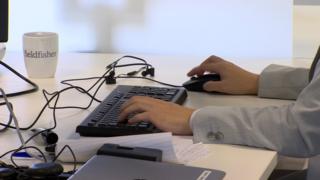 A European law firm is creating 125 new jobs in Belfast.
Fieldfisher is expanding its international office network to Northern Ireland by creating new legal and business support jobs.
The new jobs will add over £3.6m to the local economy annually in salaries. Michael Chissick of Fieldfisher said the "pool of graduate talent" attracted them to Northern Ireland.
Invest NI is offering £630,000 towards the creation of the new jobs.
"There's two excellent universities that each year produce a number of really excellent graduates," said Mr Chissick.
"And we're looking to recruit people that can help us across our network. "
Invest NI CEO Alastair Hamilton the jobs were a boost to the legal sector.
"We produce something in the region of 700 law graduates a year in Northern Ireland who will not get a job in a local practice.
"Traditionally they have left our shores and gone and worked elsewhere.
"What we've been trying to do, with the help of firms like Fieldfisher, is provide really high quality, in this case, globally attractive employment for those legal graduates here in Northern Ireland. "
Strategic partnership
Fieldfisher has also established a strategic partnership with Holywood, County Down, firm Donaldson Legal Services, now Donaldson Legal Consulting LLP.
Alison Donaldson, managing partner of Donaldson Legal Consulting, will also become managing partner of Fieldfisher Belfast.
"This is a great time to join our team and work for one of Europe's most dynamic and exciting law firms," she said.