Power NI price hike to hit half a million NI households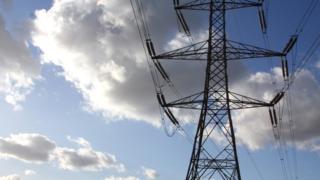 Almost half-a-million households across Northern Ireland will see their average annual electricity bill increase by £68 due to a price rise.
Power NI, which has 467,000 customers in NI, said its electricity prices would go up by almost 14% from October.
The increase is being driven by a rise in the cost of generating electricity, with gas prices up 30% and oil prices up 42% on this time last year.
It comes after a 5.6% rise in Power NI household electricity prices in 2017.
"Putting our prices up is the last thing we want to do, but unfortunately we are at the mercy of fluctuating world fuel prices," said Power NI managing director Stephen McCully.
"We've worked through a rigorous process with the Utility Regulator and our customers can be sure that although unwelcome, this increase is as low as possible and our prices are still cheaper than they were five years ago," he added.
Utility Regulator chief executive Jenny Pyper said that after the increase the average Power NI bill will be about "15% lower than the GB average and around 29% cheaper than the Republic of Ireland average standard tariff".
"It will also see prices back to slightly lower than where they were in 2013," she added.