NI newspaper review: Omagh bombing plea and Lambeg drum noise order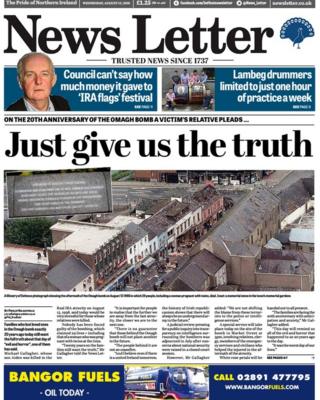 A plea for the "full truth" about the Omagh bombing, an interview with former Ulster and Ireland rugby player Paddy Jackson, and a noise abatement order over Lambeg drums make the daily newspaper headlines on Wednesday.
As Omagh prepares to mark the 20th anniversary of the bombing, the News Letter has an interview with Michael Gallagher, whose son Aidan was among the 29 people, including a woman pregnant with twins, who died in the 1998 attack.
Mr Gallagher says the families of those who died "still want the truth" and that there is no guarantee "that those behind the Omagh bomb will not plant another in the future".
The car bomb attack was carried out by the dissident republican group the Real IRA, several months after the signing of the Good Friday Agreement. No-one has been convicted over the bombing.
Paddy Jackson is on the front page of the Daily Mirror and the Irish News, as he talks about life after he and fellow rugby player Stuart Olding were cleared of raping a woman in Mr Jackson's house.
Their Ulster contracts were revoked because of social media and text messages revealed in court.
Mr Jackson has moved to the south of France after joining Perpignan, and admits the last few months have been difficult.
"You can only really understand if you have been in my shoes or my family's shoes," he said.
The Irish News and Belfast Telegraph report that a County Tyrone family have expressed their disgust after thieves drained a relative's home oil tank while he lay dying in hospital.
Johnny O'Driscoll, 72, was in Craigavon hospital, where he died from cancer, when it is believed the heating oil was stolen from his house outside Cookstown.
His brother Danny, and his wife Bernie, have expressed their disappointment at the theft which they said was "sickening".
The News Letter, along with a number of the newspapers, reports on the death of a woman in her 60s, after a carbon monoxide leak at a house in Cookstown.
Four ambulances and a hazardous area response paramedic called to the Drum Road house on Tuesday morning.
The woman's husband, who is in his 70s, was taken to hospital where he is in a stable condition.
The Northern Ireland Fire and Rescue Service said gas readings from inside the property "found significant levels of carbon monoxide".
Elsewhere, journalists on the news beat in the Belfast Telegraph and News Letter have highlighted a widow's anger at her local council following its decision to address decibel levels from Lambeg drums.
Kelley Sterritt, 44, said she was stunned when officials from Armagh City, Banbridge and Craigavon Borough Council hand delivered a noise abatement order to her home.
She said it restricted her children's ability to carry on a family tradition and keep alive the memory of their late father Richard, a renowned drum-maker.
'Grave concern'
It is understood her solicitor is looking into whether the order can be overturned.
A council spokesperson said the authority has a "statutory duty" to serve the order which can be appealed at court.
'At Grave Risk', is the headline in the Daily Mirror as it reports on the discovery of more than 3,000 unsafe memorials at Roselawn cemetery in Belfast.
Belfast City Council confirmed a third of the 10,000 headstones examined as part of a health and safety overhaul were considered "unstable or unsafe".
The memorials have been taped to warn the public of potential danger and owners face bills of between £100 and £175 to have them secured.
Finally, souvenir hunters could be counting their blessings following the release of various products ahead of the Pope's visit to Ireland this month.
The Irish News reports that a Pope Francis souvenir chair made of recyclable cardboard, a commemorative umbrella and Papal Flag Bunting are among the items of memorabilia released by religious publisher and retailer Veritas ahead of the event.