Sirocco office block in Belfast gets go-ahead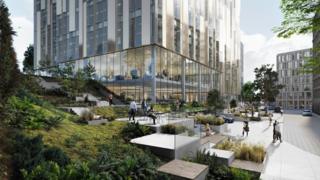 Belfast City Council has granted planning permission to develop the old Sirocco factory site in east Belfast into a 13-storey office building.
The site covers 16 acres along the River Lagan between Bridge End and the Albertbridge Road.
Vanguard Real Estate, which owns the site, submitted its proposals to the council in February.
Jim Osborne from the company said the development will provide 2,500 jobs to the city when complete.
"This decision illustrates that the city is ready and open for doing business on a global scale," he added.
It will include a retail unit on the ground floor alongside café and restaurant units
Belfast City Council also approved a £20m investment for Graham House.
Paris-based developer Stargime got the go-ahead to develop an 11-storey office building with a ground floor restaurant/café on Albert Square.