'Significant gap' in skills training for workers mid-career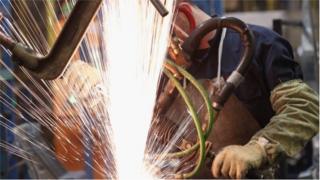 A greater focus is needed on delivering skills training to people mid-career, a report has recommended.
The Institute for Public Policy Research (IPPR) reviewed skills policies and interviewed participants.
The report highlights how middle-aged people in Northern Ireland are more likely to be economically inactive compared to the UK average.
It says this points to a "significant gap" in training for those mid-career and who may have been made redundant.
Significant gap
It adds that people in the middle of their working lives may also find their skill requirements transformed by the impact of automation.
Economic inactivity refers to people who are not in work and are not looking for work.
Among younger age groups, Northern Ireland has similar levels of inactivity compared to the UK.
However, at about the age of 40, a significant gap of up to seven percentage points opens up.
Northern Ireland is a relatively low-skilled part of the UK when measured by the level of formal qualifications.
It has the lowest proportion of the population with qualifications equivalent to A-levels and the largest proportion with no qualifications.
Stormont impasse 'hindering' response
The IPPR makes a total of 14 conclusions, suggesting areas which need greater focus or understanding.
They include measuring success in skills policy in relation to how it drives pay and career progression.
It also says Northern Ireland needs to do more to help young people who are in danger of remaining stuck in low-skilled work throughout their careers.
It concludes: "It is no longer ambitious enough to see any job as a successful destination for a learner, when we need to see young people enter the labour market in jobs which continue to offer training, learning and development."
The report praises some skills initiatives in Northern Ireland such as the Assured Skills scheme which sees government work with employers to design vocational training programmes for specific job creation investments.
It says this is widely seen as "an innovative and effective policy".
The IPPR also cautions that the lack of devolved government is "hindering the skills system's ability to address existing challenges and anticipate future change".
It highlights how some skills strategies are nearing the end of their timeline, and says there are "obvious gaps developing in policy direction".