Queen's University chancellor Dr Tom Moran dies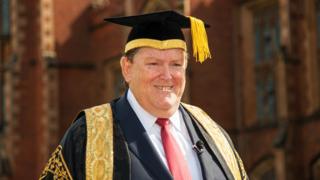 The chancellor of Queen's University of Belfast, Dr Tom Moran, has died in New York aged 65.
A leading Irish-American businessman, Dr Moran accepted the role in 2015.
The new vice-chancellor of Queen's, Professor Ian Greer, expressed gratitude for Dr Moran's "support and commitment."
"Tom considered it a privilege and honour to be our Chancellor," he said.
In universities in the UK the role of chancellor is mainly a ceremonial one, with the vice-chancellor responsible for running the institution.
However, the chancellor often presides at graduation ceremonies and also acts as an ambassador for the university abroad.
Dr Moran was a former chief executive of the Mutual of America life insurance company, and a former chair of the charity Concern Worldwide's board in the United States.
He also had a role as an unofficial envoy to Northern Ireland during the 1990s alongside his former colleague Bill Flynn, and met many political and community leaders.
A number of tributes have been paid to him on social media.
The PSNI chief constable George Hamilton called him an "authentic advocate for policing and the peace process."
The Republic of Ireland's foreign minister Simon Coveney said Dr Moran had made "a significant positive impact on Irish-American relations."
The former SDLP leader Mark Durkan said that his support of the peace process "spanned right across and beyond party divides."
Sinn Féin MLA Caoimhe Archibald described Dr Moran as having played a "key role in our peace and political political process" in addition to being a "noted philanthropist and leading international humanitarian".
Born and raised in New York, Dr Moran had ancestors from Northern Ireland, the Republic of Ireland and Italy.