Arc21 ruling: NI Attorney General seeks clarity over case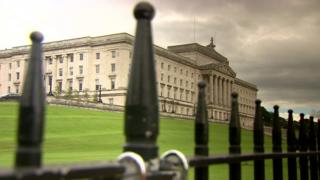 Northern Ireland's Attorney General has submitted five questions to the Supreme Court relating to the landmark Arc21 incinerator ruling.
John Larkin confirmed to BBC News NI that he is seeking clarification on a number of points about the case.
Last month the Court of Appeal upheld a judgement that civil servants did not have the power to make some decisions in the absence of a devolved executive.
It could have wide-ranging implications across Stormont departments.
The Attorney General revealed his approach to the Supreme Court at a legal summer school in Belfast on Friday.
'Authoritative guidance'
He told BBC News NI that his office takes no "formal position on the planning merits" of the incinerator planning decision, but is keen to clarify the wider ramifications of the ruling.
"I do consider, with respect, that the decision of the Court of Appeal is wrong in its interpretation of section 28A of the Northern Ireland Act 1998," Mr Larkin said.
"My reference under paragraph 34 of schedule 10 to the Northern Ireland Act will leave the Court of Appeal decision unaffected, but it offers the Supreme Court the opportunity to give us authoritative guidance about the powers of departments to make important decisions."
The Attorney General's questions do not amount to an appeal of the Arc 21 judgement.
But Mr Larkin believes they may clarify the powers of Stormont officials when it comes to dealing with controversial matters which cut across departmental lines.
Programme for government
He is also seeking to establish how officials can operate in a situation where there is no programme for government in force.
Northern Ireland has been without a functioning government since January 2017, when a power-sharing deal between the DUP and Sinn Féin collapsed.
Planning permission was initially granted for the Hightown waste incinerator in 2017 by the Department for Infrastructure's top civil servant, Peter May, but earlier this year the High Court ruled that he did not have the power to give the go-ahead to the plant.
This was upheld by the Court of Appeal last month, which said the decision was significant and cut across the remit of several Stormont departments, which meant it should have been referred to the NI Executive.
In the absence of an executive, civil servants could not take decisions usually reserved for ministers.
The Supreme Court does not sit again until the autumn so it will not consider the questioned submitted by Mr Larkin before then.