Belfast Met: £3m project to help disadvantaged youth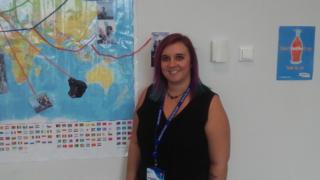 About 800 young people from disadvantaged backgrounds are to benefit from a £3m project aimed at improving their education and employment opportunities.
Belfast Metropolitan College is leading the Futures project, which also helps 16 to 24-year-olds become more aware of diversity and good relations.
The college said seven different nationalities are represented.
It is managed by the Special EU Programmes Body.
Futures project manager, Jamie Maze, said a number of the young people on the project have had a "lot of challenges to overcome".
She said the idea of the personal development programme is to "minimise that and try to get them back into education or employment".
Teamwork
"The programme is based around personal development, so we look at things like confidence, teamwork skills, leadership, looking after their own health," she said.
"Then there's good relations, where they are learning about all the different cultures and diversity in Northern Ireland, and then citizenship - doing community projects or maybe volunteering, charities or fundraising.
"The students are also appointed a mentor to help them with any issues that are stopping them from succeeding on the programme.
"The hope is that after they finish they will either go into employment or an apprenticeship or some of the other courses at Belfast Met."
'Amazing Northern Ireland'
Among the participants are Husam and Omar, who arrived in Northern Ireland from Damascus in Syria this year.
"My friend told me about it, I joined to improve my English and make my future better," Husam said.
"I have been here seven months, Northern Ireland is amazing.
"There is change, because it is a different language and people, but I like everything except the weather."
Omar said he had only been in Northern Ireland one month, but his English was also improving.
"I would like to be a computer programmer and have studied a course on the internet," he said.
"My only English was from movies and playing games, but I have learned more now."
Culture night
Ms Maze described the sort of activities linked to diversity and "good relations" that the students would be taking part in.
"They would do a mural tour, look at flags and symbols in Northern Ireland, the Syrian guys would share stuff about their cultures," she said.
"We would go to visits like the Islamic Centre or to the synagogue or to the Indian Community Centre. We had people in from the Chinese Welfare Association.
"They will be doing a culture night of their own - we have seven nationalities represented on the programme at the moment, people from Syria, Brazil, the Ivory Coast, Sudan and the Philippines, as well as British and Irish.
"There is a group of the guys who are also working with Belfast Culture Night and they are going to be planning an event for the night as well."
Christian, who is originally from London, said he was looking for a role in IT and that the programme had been suggested to him when he attended a job centre.
"I feel a lot better since joining the programme, I think my employment prospects have improved," he said
"I am getting help with my CV as well."
Heather, who has two children, said the project had given her confidence and enhanced her language skills too.
"The Syrians are learning English from us and we are learning Arabic from them," she added.
"We are feeding off each other in a positive way, it is lovely to come together as a team."