Loyalist killer Michael Stone opens art show during jail release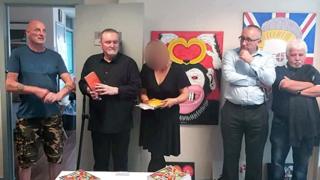 The brother of a man murdered by a multiple killer said he should have been informed that he is on temporary release.
Loyalist Michael Stone was convicted of murdering Roddy Hackett's brother Dermot in 1987.
Stone opened a sale of his artwork in east Belfast in July while on overnight leave from Maghaberry Prison.
He was convicted of killing six people during the Troubles and is coming to the end of a 30-year sentence.
According to the Northern Ireland Prison Service, victims have to register with a special scheme before they receive information about a prisoner's release date or any periods of temporary release.
In July, Stone opened an exhibition of 24 of his paintings while out on an unsupervised temporary release day at the Reach Project on the Newtownards Road in east Belfast.
Money was raised at the exhibition for Muscular Dystrophy UK but the charity has said it will not accept donations from the event.
"We were not aware that Mr Stone had work on show at the Milestones exhibition," a spokesperson for Muscular Dystrophy UK said.
"We understand the sensitivities in Northern Ireland about an exhibition including his paintings. After careful consideration, we will be declining the money raised at the event."
'No inconsistency'
Also present at the launch of his art sale were the Grand Secretary of the Orange Order Mervyn Gibson, former Democratic Unionist Party (DUP) MLA Sammy Douglas and east Belfast DUP councillor George Dorrian.
Mr Gibson told BBC Radio Ulster's Talkback programme he attended the event in his role as a "local minister and also a community activist who has been involved in peace building for many years".
He said that he supported an Orange Order decision not to meet with Sinn Féin but added there was "no inconsistency in me, as an individual, going to such an exhibition".
"Over the years I have met many senior Sinn Féin officials who were terrorists, and I do so in the interests of progress and building peace."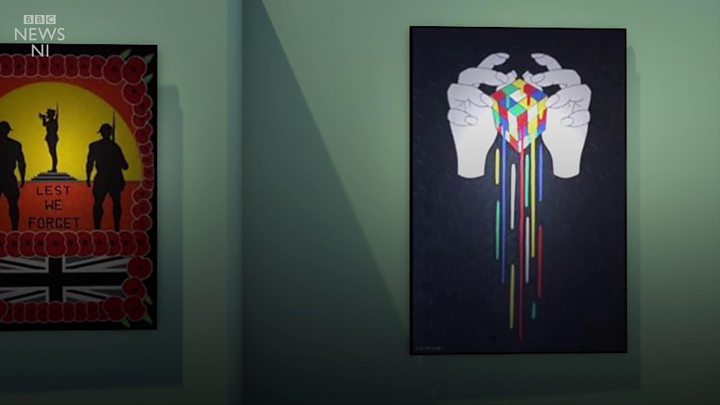 A DUP spokesperson said: "Councillor Dorrian, like all DUP representatives, condemns all acts of terrorism, including the evil deeds committed by Michael Stone."
As a long-term prisoner, Stone is entitled to one 24-hour temporary release day every four weeks in the run up to his final release.
As well as killing three mourners during a gun and grenade attack in Milltown Cemetery in 1988, Stone was convicted of murdering three other Catholics in separate gun attacks, including County Tyrone bread server Dermot Hackett who was found dead in his van between Drumquin and Omagh in 1987.
"We should have been notified," his brother Roddy said.
"I would hate to think that some of my immediate family happened to walk up the street in Belfast and see him walking towards them.
"I think it would be an awful shock for them, especially Dermot's family.
"It is only right that they should have let us know," he added.
Stone opened his exhibition on 9 July and it remained open to the public for two days.
Called Milestones 2018, the programme said it was an exhibition of works by "east Belfast artists Michael and Karen Stone".
Michael Stone married Karen Stone in a ceremony in Maghaberry Prison two years ago.
It is understood some of his paintings were sold, with a sign at the launch saying: "All small paintings £150.00."
The exhibition venue was inside the Reach Project, which was set up by ex-members of the loyalist Red Hand Commando paramilitary group.
Its mission statement said it aims to help "move people forward into a more peaceful and equitable society".
Reach chairman Jim Wilson described Michael Stone's paintings as "very special and very interesting to our people and the people of east Belfast in general".
"Michael Stone is like any other human being," he said.
"He has had a past. He is now hoping to have a different future.
"I think it was [David] Trimble who said, if you have a past it does not mean that you can't have a future. If this man is moving into a new phase in his life, he should be allowed to do so.
"For a guy who has been involved in what he has been involved in, I think he is transforming very well.
"That is the transformation we would like to see from all who are ex-combatants."
Asked if he accepted that some may consider Michael Stone's work as offensive, Mr Wilson said: "I understand the hurt and pain Michael may have foisted on other families, but it happened on our side as well.
"It was not just Michael Stone who did things wrong in the past.
"People who are administering this government did things wrong in the past."
The victims
On 16 March 1988, Michael Stone murdered three mourners during a solo gun and grenade attack on republican funerals at Milltown Cemetery in Belfast.
Thomas McErlean, John Murray and Kevin Brady were killed and dozens more were wounded.
Three-and-a-half years previously, in November 1984, he murdered milkman Patrick Brady in south Belfast.
The following year he shot Kevin McPolin in Lisburn, County Antrim, before killing Dermot Hackett in 1987.
Stone also confessed to a series of plots to kill, including a failed bid to assassinate Sinn Féin leader Martin McGuinness.
He was given a 30-year jail sentence for the six murders, but was freed on licence for a six-year period under the terms of the Good Friday Agreement, which gave early release to many paramilitary prisoners.
Stone was returned to jail after a botched attack at Parliament Buildings, Stormont, in November 2006 when armed with explosives, knives and an axe he tried to get inside and kill Martin McGuinness and Gerry Adams.
He later denied trying to kill the Sinn Féin politicians and said it was simply "an act of performance art".
In 2013, Lord Chief justice Sir Declan Morgan ruled that Stone would have to serve a minimum of 30 years in jail for the Milltown killings.
This decision meant that Stone could not be considered for release until 2018.
Release scheme
It is believed he was turned down for being given a specific release date earlier this year but is currently on a temporary release scheme where he is allowed to leave the prison unaccompanied overnight as part of his pre-release programme.
The Department of Justice said a Prisoner Release Victim Information Scheme is in existence.
A spokesperson said: "It is a scheme which provides for victims of crime or where the victim is deceased, the family of the victim, to register to receive information about a prisoner's sentence, about any periods of temporary release from prison for which a prisoner is being considered and about their release from prison at the end of their period in custody.
"The scheme also provides for the written submission to the Prison Service of any concerns victim's (or) victim's family's have about a prisoner's release."