Newry, Mourne and Down Council workers to vote on industrial action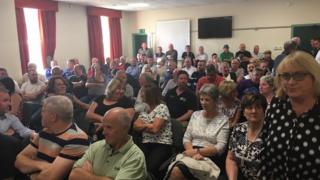 Newry, Mourne and Down Council workers will be balloted on whether to take industrial action.
They have claimed there is an ongoing failure to address a range of issues since the old Newry and Mourne Council merged with Down Council in 2014.
More than 200 employees met at Ballybot House in Newry on Wednesday evening.
They also passed a vote of no confidence in the council's chief executive, Liam Hannaway.
The staff claimed Mr Hannaway has refused to meet with them to discuss concerns over the HR department's approach to restructuring and job matching following the council merger.
They said there has been an erosion of protected terms and conditions and a failure by the council to meaningfully engage with the unions on major issues affecting members.
All of the council workers are members of the four trade unions recognised by the council - NIPSA, SIPTU, Unite and GMB.
'Real meat on the bones'
"Hopefully it sends a message to the chief executive that the matter is grave," said Niall McNally of SIPTU.
"But the real meat on the bones is the consultative ballot that our members have taken.
"Matters are very, very serious and we are requesting the management team to get around the table and start dealing reasonably."
The ballot is expected to happen in the next few weeks and could lead to industrial action.
"We have been mandated as a joint trade union to perform a consultative ballot of our members for industrial action," said Kim Graham NIPSA.
"What that means is that we will have evidence of how strong our members feel at this point in time about the erosion of the terms and conditions of their employment and the way the management team of this organisation handled the restructuring caused by the creation of the new super council."
'Continued commitment'
In a statement, the council said it is "committed to protecting and promoting the wellbeing of all its employees".
"Over the past three years we have undertaken and continue to undertake a process of engagement in dialogue with staff and trade union representatives around restructuring," it said.
"It is our priority that staff terms and conditions are protected."
The statement added: "During this process a number of new policies and procedures were agreed with trade union representatives.
"There is no evidence to substantiate the claims that terms and conditions are being eroded."
In a letter seen by BBC News NI that was sent to council staff on Tuesday, Mr Hannaway wrote that he was: "Reiterating my continued commitment and that of my senior management to appropriate and meaningful engagement with both the full-time officials and the local representatives of the trade unions."