Police treat mocking bonfire sign as 'hate incident'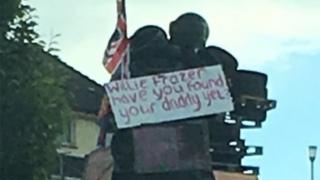 A sign placed on a bonfire that mocked the death of a victims campaigner's father is being treated by police as a "hate incident".
The sign, which said "Willie Frazer have you found your daddy yet?", was put on a bonfire in Newry, County Down.
Willie Frazer's father Bertie, a part-time UDR soldier, was killed in an IRA gun attack in Ballymoyer in 1975.
The PSNI said: "The display of this material has been perceived as offensive and distasteful."
Speaking to the BBC's Good Morning Ulster programme, Mr Frazer said he was "disgusted" by the sign.
"There are grandchildren and great grandchildren seeing this, and they're asking 'what is this all about?'," he said.
In a statement, the PSNI said: "We recognise the hurt and frustration that this has caused to many in the community.
"Should evidence come to light that a crime has been committed and suspects identified, they will be brought before the courts," they added.
Condemnation
DUP leader Arlene Foster tweeted that she had spoken to Willie Frazer "about the vile sign" placed on the bonfire.
"Such hate-filled actions compound the pain caused by the terrorists who inflicted such heartache on the Frazer family," she said.
Irish Foreign Minister Simon Coveney said it was "disgusting and should be condemned."
Representatives from the UUP, SDLP, Alliance, Sinn Féin and the DUP also spoke out about the incident.
UUP councillor David Taylor, who said he witnessed the sign on the bonfire, said: "The Frazer family have suffered greatly at the evil hands of republicanism terrorism and it is completely unacceptable that they should have to tolerate this despicable behaviour."
He said he has reported the sign to the PSNI.
Anti-internment bonfires are built in some republican areas to mark the anniversary of the introduction of internment without trial in 1971.
Sinn Féin said those who put up the sign were not "acting in the name of republicanism".
"Such actions are hate crimes and must be eradicated," said Sinn Féin MP Mickey Brady.
"This so called anti-interment bonfire has nothing whatsoever to do with the legacy of internment.
"It is anti-republican, and does not celebrate any aspect of Irish national identity or cultural traditions."
'No tolerance'
Mr Brady's comments were echoed by SDLP MLA Justin McNulty who said that the SDLP believed the actions "do not reflect the true meaning of what it means to be an Irish republican".
He added: "Those responsible should be ashamed of themselves. In 2018 there can be no tolerance for such hate in our society."
Alliance leader Naomi Long said: "There is no place for any sectarian, divisive conduct in our community. The source - republican or loyalist - is irrelevant."
DUP MLA Christopher Stalford described the sign as "evil."