Irish hockey: No Stormont means no extra cash from Sport NI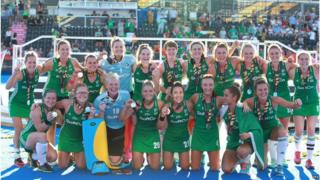 It is not possible for the sports authorities in Northern Ireland to provide extra funding for Ireland's women's hockey without a return of Stormont ministers.
Sport NI chief executive Antionette McKeown said it could not match the extra funding announced in the Republic of Ireland for the all-island team.
Six of the 18-strong World Cup squad come from Northern Ireland.
Ms McKeown said that Sport NI already provides financial support for hockey.
She said: "In the absence of a minister it is very, very difficult for us to increase that amount because we will need ministerial approval for it but we are due to meet Ulster Hockey and Irish Hockey in the coming weeks."
Last Sunday was the biggest day in Irish hockey's 130-year history as the women's team took on favourites the Netherlands in the World Cup final in London.
The Netherlands won the match 6-0 but Irish fans outnumbered and out-sang the Dutch in the 10,000-seater Lee Valley stadium.
On Monday, Irish sports minister Shane Ross pledged to give Irish hockey extra money, as part of 1.5m euros (£1.35m) investment in elite sport.
'Specialist services'
Ms McKeown told the BBC: "Any increases in funding that we're receiving from the Department for Communities, our sponsor department, is along the lines of decisions already taken previously by ministers. That is the hard reality.
"However it doesn't prevent Sport NI from continuing to put in the specialist services and support that we have been offering in terms of talent development, workforce development, club development.
"This has been a decade of investment from Sport NI, and Ulster and Irish Hockey. We will continue that.
"But in terms of the types of investment that were made on Monday afternoon in Dublin, we cannot provide that in the absence of a minister here."
Northern Ireland has been without a government since the DUP- Sinn Féin coalition collapsed in January 2017.