Influx of tour buses brings Belfast parking problems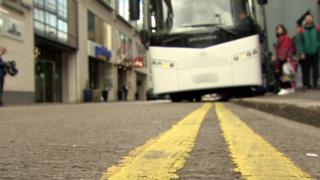 A rise in the number of tourist buses is causing problems in Belfast, with officials being urged to sort out parking issues before operators are put off coming.
One company told BBC News NI there are not enough city centre spaces.
Another issue is that many hotels have no lay-bys where buses are allowed to stop to pick up or drop off visitors.
Caroline McComb, who runs a coach firm, said: "It is a fantastic time to be in tourism but this is a nightmare.
"Grand Central is probably the best example of it - the biggest hotel in the whole of Ireland and not one single coach bay.
"There is nowhere for coaches to park safely."
'Inadequate'
It is a similar situation at other newly-built hotels, where coach operators are often seen double-parked, adding to traffic congestion.
Over the course of 2018 an extra 1,000 rooms will become available at new hotels in Belfast.
The Northern Ireland Hotels Federation said the situation needs to be addressed.
"This has been an issue before and we have got to look at the infrastructure," said its chief executive, Janice Gault.
"We are a city which is encouraging tourists. We want to get bus tours in and it is important we accommodate that."
In terms of all day coach parking, the area alongside Belfast City Hall is viewed as inadequate, with room for only four or five coaches.
Tourism officials acknowledge there is an issue and have said the council is assessing the situation.
Spaces have been set aside outside the city centre, such as at Crumlin Road Gaol and Hawthorn Business Park, but with mixed success.
Interim solutions
In a statement the council said: "Belfast City Council is aware of the need to provide appropriate coach parking facilities given the city's growing appeal.
"To date we have provided interim solutions during peak season.
"We are continuing to work with other statutory partners, including Visit Belfast and the Department for Infrastructure, to secure a long-term solution."