Errors in Belfast's York Street procurement, court rules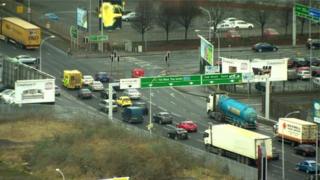 A plan for a major road improvement scheme at York Street in Belfast faces further delay after the High Court ruled there were mistakes in the process for appointing a contractor.
A hearing in September will consider what should happen next.
The scheme is designed to ease congestion at the junctions of Belfast's M1, M2 and M3 with a new bridge and underpass.
The challenge was taken by a BAM-FP McCann joint venture.
It narrowly failed to win the contract.
The court ruling means the project faces another delay, until at least the September hearing.
In a statement the Department for Infrastructure said it was "disappointed by the court's decision and will consider the judgement in detail before determining the most appropriate course of action to progress this important road scheme".
'Manifestly in error'
It is not yet clear if the procurement will have to be re-run - that will be a matter for the remedy hearing.
The BAM-McCann joint venture had the best-priced submission, but lost out on the quality assessment.
The tender evaluation panel had concluded that BAM-McCann had not understood the unique nature of the project and had not provided enough detail about phasing of work.
However, High court judge Mr Justice Maguire ruled the panel was "manifestly in error" to say BAM-McCann had not understood the project.
Additionally he said the panel was not transparent enough about the amount of detail it was expecting on the phasing of the works.
The cost of the project is between £130m to £165m and will take around three years to complete.
Money from the DUP-Conservative deal has been earmarked for the scheme.