Petrol bombs thrown at Lurgan railway line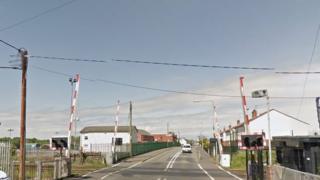 Petrol bombs were thrown at a railway crossing in Lurgan, County Armagh, on Tuesday night, police have said.
The PSNI said it received a report of a number of petrol bombs thrown just after midnight at the crossing at Lake Street.
It is not believed any damage was caused.
It said that two youths were seen running from the Kilwilkie estate "throwing two petrol bombs at the railway track".
Police added that they were thrown when the barrier was lowered and last train for the night had passed through.
"They then put another petrol bomb into the pump house, close to the railway line barrier, before running back towards the Kilwilkie estate," said PSNI Sgt Meaney.
"NIFRS (Northern Ireland Fire and Rescue Service) attended but the petrol bombs burned themselves out," he added.
The police have appealed for information.