Remembering Pope John Paul II's visit to Ireland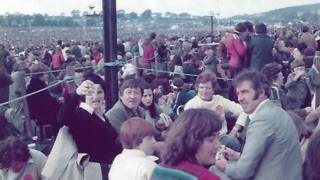 Going to see the Pope when he came to Ireland in 1979 felt like as much of an obligation to a young Catholic family as going to Sunday Mass.
As a nine-year-old living in a reasonably quiet area of south Belfast, my parents had done their best to insulate me from the horrors of the Troubles.
But I was still well aware there were plenty of reasons why John Paul II wasn't crossing the border.
Having returned to school four weeks before the Pope was due to visit, it seemed his imminent arrival was now part of the curriculum, with every art project a celebration of the collective anticipation and our elementary offerings covering the walls of classrooms, and indeed, the church next door.
Eager parishioners
Saturdays were usually spent watching kids' TV and playing football, but 29 September was no ordinary Saturday, and even now its events have a clarity beyond the lazy, hazy remembrances of a largely happy childhood.
Despite the fact it was fairly warm, my mum insisted I wear my best jumper to see the Pope, a white Aran number knitted by my aunty Jo, for seeing me in it among a sea of 300,000 faces would surely make his day.
Ham sandwiches were being made in the kitchen ahead of our departure and, as ever, my older sister was annoying me in some way or other - or perhaps it was the other way around.
Although every aspect of the organisation had been handled by mum, it was dad who kept us late, with the very real possibility we could miss the bus packed with eager parishioners leaving from the church opposite our house.
A walk to the footbridge at the end of our street would add 15 minutes to the journey to St Bernadette's, but scrambling down a steep, grass bank and across a busy dual carriageway, which of course I never did, would have us there in less than half that time.
Not wanting to risk eternal damnation by failing to make it to County Louth, an executive decision was made and the Kearneys put their souls before life and limb.
First to descend was dad, who arrived on the pavement below with unseemly haste.
"My trousers are ruined, I can't go to see the Pope like this," he roared as Denise, myself and mum laughed at him from a safe distance.
'Bound for salvation'
Persuaded, eventually, that there was no time to change all four of us crossed the carriageway in time to take the last seats on a bus bound for salvation - or more accurately, Killineer, near Drogheda.
Halfway there on a painfully slow journey, the male pilgrims prevailed upon the driver to make an unscheduled comfort break during which we also gathered fistfuls of wild blackberries, greedily consumed by those who didn't think too deeply about why we'd left the bus in the first instance.
After what seemed like an eternity we arrived at the place where the Pope would later make an impassioned plea for peace and we were corralled to our section in the cheap seats, folding chairs in hand.
'Beatlemania'
To a wide-eyed nine-year-old, the arrival of the papal helicopter was like Beatlemania - the roars growing as the pontiff touched down.
At this stage the only concert I'd ever been to was a Nana Mouskouri show in Belfast's King's Hall when my parents' babysitting plans fell through. And while my dad was fairly excited about seeing the Greek songstress, he stopped well shy of hysteria.
While I'd frequently threatened to fall asleep during any number of sermons on Sundays, there was no danger of doing so here.
As the Pope urged the gunmen: "On my knees, I beg you to turn away from the path of violence and return to the ways of peace," every one of those who travelled from across the border listened intently - most naïve enough to think his words could actually make a difference.
And almost as soon as he had arrived, he was gone. A man in robes so far away he could have been anyone, taking to the skies as those who came to worship trudged back to their cars and buses.
As our charabanc crept slowly home, the children on board drifted into peaceful sleep, broken by screams and panic as those who had a problem with our faith stoned the bus somewhere close to Dromore. A stark reminder of just how contentious the papal visit was and exactly where Northern Ireland was at the time.
I'll not be there to see Pope Francis and nor will my parents as my father is battling illness, cared for by my mother with a devotion beyond any faith.
However, I was there in 1979... and who knows, maybe John Paul II did spot my jumper.
Papal visit to Ireland: Itinerary highlights
Saturday 25 August
08:15 - Departure by plane from Rome for Dublin
10:30 - Arrival at Dublin Airport for official welcome
10:45 - Transfer to Áras an Uachtaráin (Irish president's residence)
11:15 - Welcome ceremony with President Michael D. Higgins
12:10 - Arrival at Dublin Castle for meeting with authorities, civil society and diplomatic corps
15:30 - Visit to St Mary's Pro-Cathedral
16:30 - Private visit to the Capuchin Day Centre, a centre for homeless people
19:45 - Preside at the Festival of Families at Croke Park stadium
Sunday, 26 August
08:40 - Departure by plane for Knock
09:45 - Arrival at Knock Shrine for visit to the Apparition Chapel and recitation of the Angelus
11:15 - Departure by plane for Dublin
12:30 - Lunch with the Papal Delegation
15:00 - Closing Papal Mass of the World Meeting of Families in Phoenix Park followed by a meeting with the Irish bishops
18:30 - Farewell ceremony at Dublin Airport
18:45 - Departure by plane for Rome
23:00 - Arrival in Rome