Man shot in both legs in west Belfast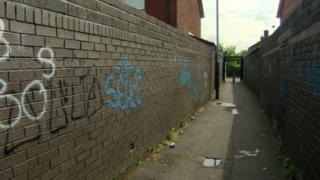 A man who shot in both legs in an overnight gun attack in west Belfast has sustained "potentially life-changing" injuries, police have said.
The victim, who is in his 30s, was shot in Westrock Gardens at about 22:30 BST on Saturday.
He was taken to hospital for treatment.
Det Insp Paul Wright described it as a "brutal attack and yet another example of how criminal groups seek to control communities through fear and violence".
He said police received a report that the victim had been shot in an alleyway close to the Westrock Gardens/Springhill Drive junction.
He added that although the man's injuries were not life-threatening, they were potentially life-changing.
Local resident Angela Whelan was at home watching TV when she witnessed the aftermath of the shooting.
"At half past ten I heard the big bangs and I thought it was fireworks," she said.
"Then I heard people shouting so I went up the stairs and looked out the bedroom window."
She said she saw the victim lying injured on the ground, bleeding heavily.
She added it was the second shooting in the area in recent times and she complained of increased anti-social behaviour in the alleyway at weekends.
Sinn Féin councillor Steven Corr said: "What we have here is a multitude of armed groups in our area, small groupings, small factions who sometimes take it on themselves to be judge, jury and executioner.
"There's a strange numbness when it comes to these shootings, people just go 'there's another one' and one of these shootings is too many for a normal society."