Sammy Wilson hits out at Robinson's 'claptrap' comments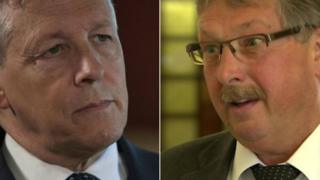 A former DUP leader has accused unionists who caution against talking about a border poll of engaging in "claptrap" and "crass folly".
Writing in the Belfast Telegraph, Peter Robinson was responding to those who criticised his comments at the MacGill Summer School in County Donegal.
He had said unionism should develop a contingency plan to deal with the possibility of a united Ireland.
The East Antrim DUP MP Sammy Wilson said Mr Robinson was "plain wrong".
He had previously described Mr Robinson's intervention as "dangerous and demoralising".
'Preparing for defeat'
Speaking on Friday's BBC Radio Ulster Talkback programme he criticised his former leader for a second time.
He said he felt it was his "duty" to point out to people that he believed Mr Robinson was wrong on this matter.
He said he also had to "give people some encouragement that there are ways of defending the union, other than preparing for defeat in a referendum which may or may not happen".
"This is the bit that worried me - is that some people hearing someone of the standing of Peter Robinson speak the way he does, they think maybe things are worse than what we believe them to be," he said.
Mr Wilson accused Mr Robinson of playing into the hands of Sinn Féin, although conceded that his former leader was still a "strong unionist".
Quite remarkable
By Mark Devenport, BBC News NI political editor
The DUP normally prides itself on running a tight ship, so the latest verbal exchanges between its former leader and one of its most prominent MPs are quite remarkable.
Peter Robinson and Sammy Wilson have engaged in not just one but two bouts of in-fighting over the rights and wrongs of preparing for a border poll.
What's behind this? It's true Mr Robinson passed over Mr Wilson when choosing his successor, instead smoothing the way for Arlene Foster.
But Mr Wilson insists the row isn't personal and that he still regards his ex-leader as a friend, albeit one who likes a good row as much as he does.
Mr Robinson may be an ex-DUP leader but he is also an honorary professor at Belfast's Queen's University, which gives him a platform to make a contribution.
After observing a period of relative silence, his latest contributions have taken many by surprise.
Perhaps they reflect his frustration about the continuing vacuum at Stormont as much as his concerns about the impact of Brexit or the direction of demographic change on the future of Northern Ireland as it approaches its centenary.
Mr Robinson has also garnered criticism from outside his party.
Former UUP leader Lord Empey, now party chairman, said that as a former leader Mr Robinson should make his points privately.
Lord Empey also speculated that the former DUP leader could be on a "come-back operation".
Talkback contacted Mr Robinson about that speculation and he responded: "You must be joking. Not the remotest notion of doing so."
Lord Empey told Talkback being a former leader could be a "difficult role".
"You have to have regard to the fact that someone else is is the driving seat, not you and you have to adjust to that and recent events in the last few months with Peter Robinson's interventions clearly indicate his hasn't managed to achieve that.
"The one cardinal sin in my view is for former leaders to be critical publicly of their successors.
"We saw in Queen's University earlier this summer when Peter made his border poll speech, Arlene was sitting in front of him and he referred to the train crash of the talks that she led in February and it was fairly obvious who he was getting at."