Critics told 'give Belfast bus lanes a chance'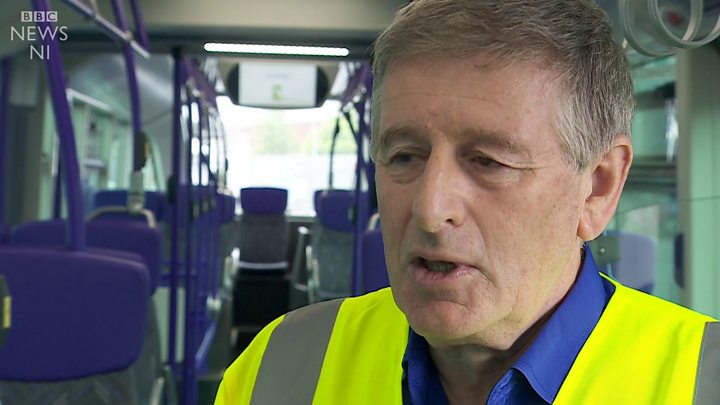 Critics of Belfast's new 12-hour bus lanes have been asked to give them a chance by the man behind the scheme.
The director of transport at the Department for Infrastructure, Ciarán De Búrca, said it would take up to six weeks for people to get used to them.
Complaints have come from a number of traders who say many customers can no longer stop at their stores.
The changes have been made to accommodate new Glider buses which come into service on 3 September.
In a BBC interview, Mr De Búrca said: "In 1982, I was the engineer that pedestrianised Grafton Street despite huge numbers of protests from local businesses.
"If you tried to put traffic back into Grafton Street today, you would face an outcry that would be unbelievable."
Figures released today suggest drivers are gradually getting used to the new arrangements:
50 drivers were caught during the first week of 12-hour lanes in west Belfast
Only five were caught during first three days of the second week
'Great system'
Mr De Búrca said: "What we're saying is - give it a chance. It will take four to six weeks to settle down and then after that we will constantly be monitoring and reviewing it.
"This is the way it has to go. We cannot just keep using the car.
"One of these buses will replace 80 cars on the road. We can't build more traffic lanes without knocking down houses.
"It is a great system and I firmly believe it's the way for Belfast to go."
The bus-lane restrictions are in place from 07:00 to 19:00 from Monday to Saturday on the main routes in east and west Belfast.
One trader on the Falls Road has blamed the new bus-lanes for the closure of his Mexican food outlet.
Mr De Búrca said: "We are very disappointed that this action took place. We have invested a lot on the road there.
"We would have much preferred if he had given it a chance to see how it works.
"We do believe that this is the future and his customers might get out of their cars and use the Glider service, which will be every seven and half minutes during the day."
Although the restrictions are all day, there is a loading and unloading window between 10:00 and 14:00.
There is also a facility for vehicles displaying a blue-badge to stop for up to 10 minutes to drop-off or pick up a blue-badge holder.
After a two-week "settling in" period, fines of up to £90 will be issued rather than warnings in west Belfast from Monday 6 August.
Fines will start in east Belfast on 13 August.