Surviving Omagh, 20 years on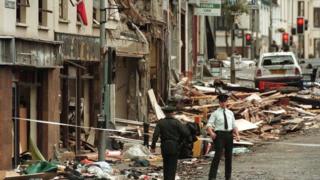 It's been 20 years since I walked away from a bomb that killed so many. Twenty years since I learnt how fleeting life can be. Twenty years, and yet I think of that day all the time.
They say time heals all wounds. It doesn't. The passage of time just gives you the space to learn how to cope.
On 15 August 1998 I walked away, practically without a scrape, from a car bomb that exploded about 30 feet from where I stood.
I've lived with that day ever since, but it doesn't define who I am. I've never seen myself as a victim. Far worse happened, to far more people that day.
But it did change me.
I was 21 years old, I had just graduated from university with a degree that really should have been better and I was spending the summer at home.
Good friends owned a shop in town and I was happy to help out while they were on holiday.
It turned out to be a very quiet day, but then at about 2pm business started to pick up.
More and more people came into the shop - when we asked a customer about the increase in numbers down "our end" of the town we were told about a bomb scare up at the courthouse.
It didn't faze us, it was just a scare and we were glad to hear the till ringing a bit more frequently.
In my 21 years, I had lived a life removed from the Troubles - yes, I saw images on TV but they never came too close.
'Darkness, dust and screaming'
I'm Protestant and had been brought up to have friends of both faiths; some of my first friends were the children of my parents' Catholic friends.
I had spent the previous three years telling my university friends in Manchester that Northern Ireland really wasn't that bad anymore - that I lived in a quiet, little town, where nothing really happened and where pretty much everyone got along.
Then 15 August 1998 happened.
As Market Street got busier, I would take it in turns with my co-worker to go out on to the street and look up toward the courthouse to see if anything was happening.
We were not to know that every time we stepped outside the shop's front door we were within a few feet of a car that was packed with 500lbs of explosives.
The next thing I remember is the darkness, the dust and then the screaming.
To this day I can't remember the sound of the explosion, although explosions in films and on television kick start something in my brain and I can be taken right back to that moment.
My friend and I were okay. We had been standing half-way up what was a very narrow shop.
The front of the shop was a mess of rubble. I don't remember if there was anybody in that part of the shop when the blast went off. Probably best that I don't.
Bloodied and bruised
There was a side door to the shop, so we were able to get everybody out and into a car park behind Market Street. We were all obviously in shock, but nobody seemed to have life-threatening injuries.
Shock makes you do funny things. I went back into the crumbling building - twice. Once to look for a pair of shoes I had left behind and then to get the keys to the shop - a shop that no longer had doors to lock.
Not long afterwards, I was bundled into a car and taken up to the hospital. What I saw there will haunt me for the rest of my life.
My dad tracked me down at the hospital. I was bloodied and bruised but I didn't want to stay there so he sent me home with a neighbour.
He stayed at the hospital to help carry in the injured and to wait for my mum who, he knew, would eventually make her way there.
My mum had been in Dunnes Stores at the time of the blast. For those familiar with Omagh, this is just around the corner from Market Street. She had raced round, witnessed the devastation and began looking for me.
She saw what was left of the shop I had been working in, not knowing I had made it out the back and was safe.
After thinking she had found me among the rubble a couple of times, she gave up her search in the town and went to the hospital where she found my dad who was able to reassure her that I was okay.
I, meanwhile, was at my neighbour's being fed sherry, valium, sweet tea and cigarettes when my mum burst into the house.
'We were meant to be invincible'
I cannot begin to imagine how horrific that hour must have been for her, as she looked for me in Market Street.
Later that night, there was a constant stream of visitors at the door, friends and family disbelieving that I could really be okay after being so close.
At about 8pm my mum insisted on taking me back to the hospital. The left side of my body was covered in bruising, there were cuts and bruising to my face and she was worried about any internal injuries.
I was given the all clear and sent home where I watched with disbelief the scenes that were unfolding on the news, finding it difficult to comprehend that I had been a part of it.
It wasn't until the next day that I found out a good friend had been killed. I had been with her just two nights before.
It hadn't occurred to me that any of my friends could have died. We were young, we were meant to be invincible.
The next few months passed in a blur.
I couldn't sleep and was probably drinking a bit too much.
At night I was having more and more flashbacks that I couldn't handle. I felt guilty for walking away when others did not.
My mum sent me to my GP who prescribed sleeping tablets, when I went back for a repeat prescription the third time he, very kindly, said no and that I should look into getting some counselling.
It was nearly six months before I took him up on his advice.
Therapy was something only Americans had, but it helped. Just to vent to a neutral person and to talk things through lifted a lot of the mist from my head.
For a long time, when people asked me where I was from I said Tyrone.
If you said you were from Omagh you could see the gradual realisation dawn on a person's face of what that place now meant. That would invariably lead to questions I didn't really want to answer.
'Shaping my life'
Twenty years on, there have been many tears shed, but there has also been a level of acceptance.
I can't deny the bombing is a part of my life.
I was there, it has undeniably shaped the life I now have.
So on Wednesday afternoon, I will attend the memorial service to remember those who didn't survive and to be thankful that I did.