Ballysillan residents move from their homes after attacks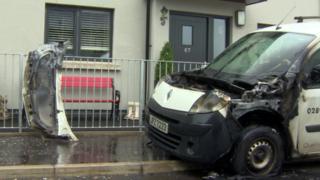 The intimidation of residents who have been forced to flee a north Belfast housing estate has been condemned.
A number of families are moving out of their homes in Ballysillan after their properties were attacked.
A mother and her two children are believed to have escaped injury after their home was targeted on Tuesday night.
A vehicle was also set alight in the latest in a series of attacks, which have been ongoing for two weeks.
Police said they were called to Ballysillan Avenue shortly after 23:00 BST on Tuesday.
They added that they believed the fire was started deliberately.
People Before Profit North Belfast representative Fiona Ferguson said it was the fifth such incident she had been made aware of.
She said "terrified" families in the area are "waiting to become the next target".
"The people who are making these threats represent a very small minority of north Belfast and it is imperative that the surrounding community, political representatives and necessary authorities make it clear that their actions are not acceptable."
Ms Ferguson said she had been in touch with the Housing Executive in an effort to help the families affected to meet the body's criteria for an emergency grant or re-housing.
PSNI Insp Laura Kelly said police patrols have been increased in the area following consultation with the local community and partner agencies.
"While thankfully we have not received reports of any injuries in relation to these incidents, damaging properties and setting fire to vehicles is not only incredibly dangerous but is also creating fear in the local community. This is unacceptable."