No probe into BBC Spotlight's DUP 'dark money' claims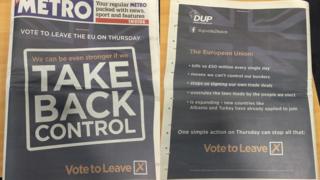 The Electoral Commission has said it will not investigate allegations made in a BBC Spotlight programme about the Democratic Unionist Party's (DUP) campaign in the EU referendum.
The programme raised questions about whether or not the party had declared any joint spending with other Leave campaign groups.
But the commission found it did not have the grounds to open an inquiry.
The Spotlight programme - Brexit, Dark Money and the DUP - aired last month.
It focused on the DUP's links with other pro-Brexit groups and the businesspeople who helped to fund them.
It made allegations about whether the party incurred joint spending with other campaigners without declaring it.
Under Electoral Commission rules, groups are not allowed to work together in order to get around the funding limits set for each group.
At the time, the DUP said it had complied with electoral law at all times.
'Prohibited by legislation'
In a statement on Thursday the Electoral Commission said it requested more evidence from the BBC after the broadcast and was told there was no "significant information" other than what was in the programme.
The commission said it considered whether other sources were available to evidence the allegations.
It has concluded it does not have the "grounds to open an investigation".
The commission also said it continues to be "prohibited" by legislation from disclosing any information about donations to Northern Ireland political parties prior to July 2017.
It added that it will continue to urge the government to bring forward legislation to allow donations from January 2014 to be published.
The DUP said the programme was "heavy with innuendo but light on facts".
"The BBC employed a man who actively opposed the UK leaving the EU to make this programme," it added.
"The BBC has serious questions to answer about its bias against those who voted to leave the EU."
'Extensively researched'
A spokesman for the BBC said the Spotlight investigation "raised important issues of public interest".
"[It] was made in accordance with the BBC's editorial guidelines, including those relating to accuracy and independence," they added.
"It was carefully and extensively researched and put significant evidence into the public domain."
The Alliance Party's deputy leader Stephen Farry said the DUP had not been exonerated by the commission's decision.
"[It] rather highlights the lack of robustness of the law, practice and accountability regarding the regulation of election campaigns and referendums," he said.
"The Electoral Commission appears to not be able to do more within the existing legal framework."
"An amendment to legislation by (Alliance Party leader) Naomi Long allowed for the backdating of donation transparency to January 2014 but the UK government decided to change the date and only donations from 2017 have been made public, therefore not ensuring full transparency.
"The question needs to be asked: Why?"