Pride: DUP challenges ABC council flag flying decision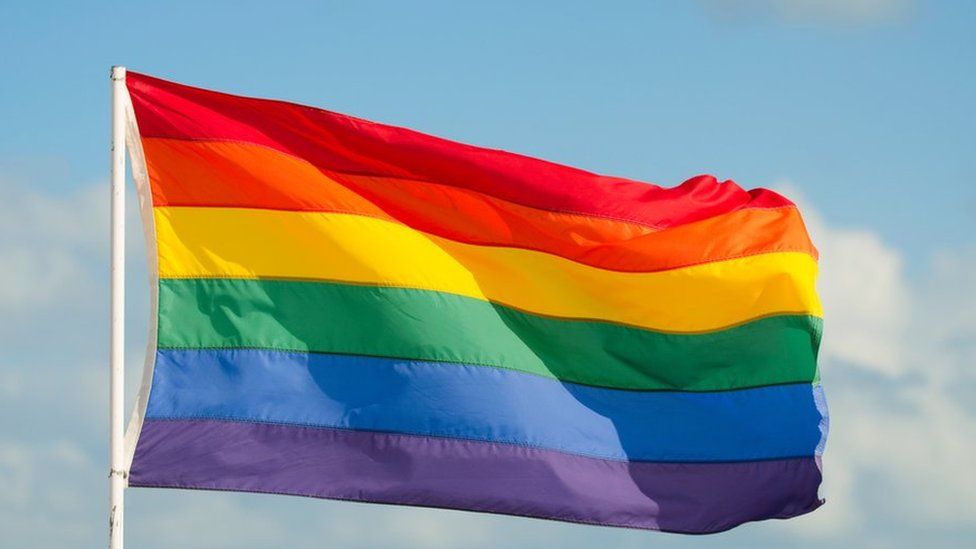 DUP councillors in Armagh City, Banbridge and Craigavon Council (ABC) are challenging a decision to fly a rainbow flag on council premises using the "call-in" mechanism.
The councillors have said they believe due process was not properly followed.
Sinn Féin's Catherine Nelson said it was an example of the DUP being "anti-rights".
The motion was brought by Sinn Féin councillors on 23 July to show "support to LGBTQ+ citizens" during Pride.
The local government act provides that a decision of a council or one of its committees can be called in for reconsideration if at least 15% of councillors request it.
In a joint statement, the DUP group on ABC council said there were strict guidelines around flags and emblems.
It added: "We believe the council has gone against its own policies in this regard by failing to carry out equality screening, public consultation and impact assessments on the matter.
"There has been a lack of discussion around the implications of the decision to fly the flag which requires consideration over an appropriate time period."
"We should have respect for each other but not if it is going to be used as a ruse" says @DUPleader when asked about a row at Armagh Banbridge and Craigavon council over the flying of a rainbow flag for pride week

— Jayne McCormack (@BBCJayneMcC) August 1, 2018
On Wednesday, ABC council responded to the statement, saying "We received a call-in following the council's decision at its meeting on 23 July 2018 regarding a Notice of Motion to fly the rainbow flag at Craigavon Civic and Conference Centre, Banbridge Civic Building, and the Palace Demesne, Armagh on Pride Day.
"We are currently processing this in accordance with the council's standing orders and the governing legislation"
"With regard to the flying of the union flag in Banbridge, this position remains unaffected".
Ms Nelson, whose party brought the motion to fly the flag said it was intended to show support to LGBT people in the borough.
Speaking on BBC Radio Ulster's Talkback programme, she said: "It is further evidence of the anti-rights agenda being pursued by the DUP.
"This call-in came in the final hour. The clear intention was to run down the clock, to block the flying of the flag on three civic buildings, a motion that was agreed and passed."
Speaking earlier on BBC NI's Good Morning Ulster programme, DUP leader Arlene Foster said the issue was not about Pride.
"Policy in the ABC council is only to fly the Union and Armed Forces Day flags and colleagues in the council felt this was a ruse by republicans to remove our national flag and it was not about respect or pride at all.
"Therefore, in that context I do support my colleagues.
"We should have respect but not if it's going to be used as a ruse to take down the national flag."
However, Ms Nelson said Mrs Foster's comments were "arrogant".
UUP councillor Jeff Dudgeon told Talkback flags were a matter of territory so they are "never not contentious".
"It was pretty plain that whenever Sinn Féin brought that motion, given that they don't have a majority on that council, they knew the consequences in relation to the DUP," he said.
"And knew, in a sense, they were going to test the UUP, who didn't vote against the flag but did propose a motion that the council be lit up in rainbow colours, but Sinn Féin choose not to vote for that."
Ms Nelson said: "Had the UUP motion suggested we do both, we would have accepted that but for us it wasn't an either or and we weren't going to shy away from flying the rainbow flag."
Meanwhile, the PSNI has confirmed uniformed officers will take part in this year's Belfast Pride parade for a second time.
Last year, there was criticism of the decision to allow officers and civilian staff to march.
But the PSNI said that as a result of their involvement there was a rise in the number of hate crimes reported by members of the LGBT community.
Emma Bond of the PSNI said: "I genuinely believe our visibility and our participation enabled people to come forward and report incidents to police."