UUP's 'wouldn't block same-sex marriage'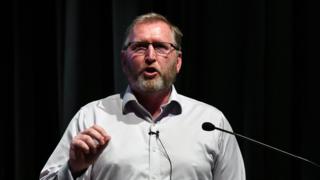 The Ulster Unionist Doug Beattie has said he does not think any of his party's MLAs would sign a petition of concern to block same-sex marriage at Stormont in the future.
The MLA was speaking during a Belfast Pride debate on Monday night.
Mr Beattie said while the UUP allows a conscience vote on the issue, he does not believe it should help veto it.
Northern Ireland is the only part of the UK where same-sex marriage is illegal.
In 2015, a narrow majority of MLAs at Stormont voted in favour of changing the law, but a cross-community veto mechanism known as the petition of concern deployed by the DUP meant the change was effectively blocked.
A valid petition of concern requires the signatures of at least 30 MLAs.
The DUP no longer has the number of MLAs needed to secure such a petition on its own and would need the backing of two MLAs from other parties.
It is likely that the Traditional Unionist Voice leader Jim Allister would give his support to it.
What is a petition of concern?
The measure was designed as a way to safeguard minority rights in Northern Ireland's power-sharing assembly.
If a petition of concern is presented to the assembly speaker, any motion or amendment will need cross-community support.
In such cases, a vote on proposed legislation will only pass if supported by a weighted majority (60%) of members voting, including at least 40% of each of the nationalist and unionist designations present and voting.
Effectively this means that, provided enough MLAs from a particular community agree, that community can exercise a veto over the assembly's decisions.
There has also been speculation that the Ulster Unionist Roy Beggs, who is opposed to same-sex marriage, might sign a petition of concern, which his party colleague Doug Beattie openly talked about during the Belfast Pride event.
Mr Beattie said the UUP was on a "journey" and that being a unionist did not mean being anti-LGBTQ, and that he personally supports same-sex marriage.
He also said the party's 10 MLAs had recently taken part in a training session around awareness of LGBT issues.
"To see us having that training session - and Roy Beggs in there fully engaged," he said.
"He wants to move this forward, the same as everybody else.
"It is a conscience issue for us, but that's not good enough. The reality is I have one vote and that one vote counts, and Roy Beggs has one vote and that vote counts.
"The other eight MLAs have one vote and that one vote counts, and anyone who signs a petition of concern negates my vote."
Mr Beattie said it was his own personal view that none of his Stormont colleagues would sign a petition of concern to block same-sex marriage.
'Matter of conscience'
"Roy is a really decent man, he is a democrat. Do I think he will sign a petition of concern? No, I do not.
"That's not to say he won't, but I'm saying the person I know will not sign a petition of concern and neither would anybody else of the MLAs in the Ulster Unionist Party - but we will vote with our conscience."
An Ulster Unionist spokesperson said: "Members of the Ulster Unionist Party are offered a free vote on the issue of same sex marriage, it is a matter of conscience and will remain so.
"As a party we have been clear that before devolution is restored, the petition of concern must be reformed to prevent the type of abuse that was witnessed in previous assemblies."