Ex-principal Br Paul Dunleavy to face sex-abuse trial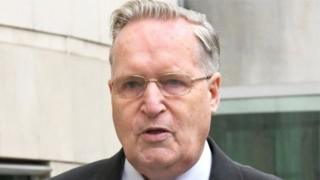 A former principal of a Newry primary school is to stand trial next year on 41 charges relating to the historical sexual abuse of young boys.
Christian Brother Paul Dunleavy, 82, pleaded not guilty to all charges at a hearing in Belfast on Monday.
Br Paul Dunleavy was a former teacher and principal at St Colman's Abbey, which has since closed.
He has been released on bail ahead of the trial, which is due to take place next year.
He faces:
Thirty counts of indecent assault
Eight counts of gross indecency with or towards a child
Counts relating to attempted buggery and inciting gross indecency
These charges relate to accusations made by nine men about offences which are alleged to have occurred in the 1960s and 1970s.
The court heard that one of the alleged victims has since passed away.
St Colman's Abbey Primary School in Newry has since closed and has merged with another school in the city.
The school's former building is currently for sale.