Irish flag 'nailed to Kingsmills massacre memorial'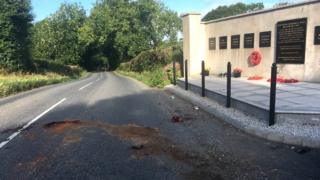 An Irish tricolour has been nailed to a memorial commemorating the Kingsmills massacre during an incident which police are treating as a "sectarian motivated hate crime".
Ten Protestant workmen were murdered by the IRA in 1976 near the County Armagh village of Kingsmills.
Police said they discovered damage to a memorial in the Kingsmill Road area of Bessbrook on Monday morning.
The DUP, Ulster Unionist Party and Sinn Féin have condemned the attack.
Newry & Armagh DUP MLA William Irwin said those responsible were "the lowest of the low".
The attack was described as "sickening" by Ulster Unionist councillor David Taylor.
Sinn Féin MLA Megan Fearon said it was "a despicable act designed to hurt the families of the victims".