Mother 'ordered to leave home by loyalist paramilitaries'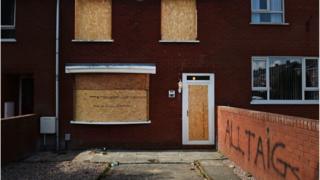 A grieving mother was threatened and ordered to leave her Belfast home by loyalist paramilitaries, according to Sinn Féin MLA Carál Ní Chuilín.
Ms Ní Chuilín said the Catholic woman, whose son died last week, was threatened by men claiming to be from the Ulster Freedom Fighters (UFF).
Windows were smashed at the property in Summer Street in the Oldpark area of the city on Sunday evening.
Police said they have yet to establish a motive.
Describing the area where the woman lived as a "loyalist part of the Oldpark", the Sinn Féin MLA said that given long waiting lists in north Belfast for social housing, people have taken houses in areas they previously "wouldn't have done".
---
Who are the UFF?
The Ulster Freedom Fighters (UFF) is widely acknowledged to be a cover name for the Ulster Defence Association (UDA), an umbrella group of various loyalist groups, which was formed in 1971
At its peak the UDA had tens of thousands of members and was the largest loyalist grouping during The Troubles
Its initial aim was to protect unionist communities from attacks by republican paramilitaries, and keep Northern Ireland within the United Kingdom, although at one time it did advocate an independent Northern Ireland
The UDA remained a legal organisation until it was banned in 1991, with the UFF claiming responsibility for acts of violence and terror
The UFF is believed to have killed more than 250 people during The Troubles and has maintained a ceasefire since 1994, with the exception of three killings carried out in reprisal for the murder of loyalist leader Billy Wright in 1998
---
Speaking to the BBC's Good Morning Ulster programme, Ms Ní Chuilín said the woman had been living in the area for more than a year but had not experienced problems before.
"The woman was visited by men purporting to be from the UFF who said she had 24 hours to leave," she said.
The woman told the men she was preparing for the wake of her son, but according to Ms Ní Chuilín, was informed that "under no circumstances" could it go ahead.
When she returned to her home later on Sunday, there were windows damaged and sectarian graffiti daubed on the property.
"There was a crowd out on the street," said Ms Ní Chuilín.
DUP Oldpark councillor Dale Pankhurst condemned the incident and said he and his party colleagues had spoken to community representatives and senior PSNI officers.
"My party colleagues and I are deeply concerned by the occurrence in Summer Street," he said.
"We understand that this family had lived in the area for about a year in a privately rented house.
"Speculation about this incident is not helpful. It should be properly and fully investigated by the police.
The DUP councillor added: "We are opposed to any acts of intimidation, which have a very damaging and harmful impact on the victims and on local communities.
"Lower Oldpark is a community that is growing in positivity and capacity, and we do not wish to see this sort of activity dragging the area backwards."
The incident was reported to police at 19:10 BST on Sunday.
A PSNI spokesman said the force is "investigating a report of criminal damage and threats" but added that the investigation was "at an early stage".