Firefighters save 72 pigs in NI's biggest animal rescue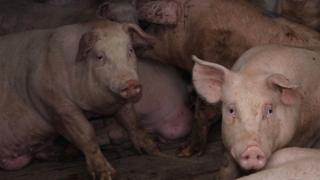 Firefighters have saved 72 pigs from suffocating in a slurry tank during the biggest animal rescue operation ever carried out in Northern Ireland.
The pigs fell into the slurry tank when the concrete slats they were standing on gave way at a farm outside Aghalee, County Antrim, on Sunday morning.
The Northern Ireland Fire and Rescue Service (NIFRS) sent 34 crew members to the scene on the Ballinderry Road.
It took seven hours to pull the 72 pigs to safety, but two pigs died.
Firefighters were called to the incident at 11:00 BST, according to NIFRS Group Commander Geoff Somerville.
He said it was a "long and protracted" operation as the pigs weighed approximately 15st (100kg) each.
'Remarkable achievement'
Crews from Crumlin, County Antrim, and Lurgan, County Armagh, were first on the scene, but such was the scale of the operation, expert teams were called in.
"We had our large animal rescue crews in attendance from Newcastle and Omagh and we had our specialist rescue team in attendance from Central fire station in Belfast," Mr Somerville said.
"The slurry was approximately 3ft (0.9m) deep and our crew were using dry suits and breathing apparatus, with gas-monitoring equipment in place.
"We were then using lines to pull the pigs from the slurry tank, using a sloped grate that we had set in place."
The group commander said it was a "remarkable achievement" that they were able to save 72 of the 74 pigs.
"We have rescued bigger animals - many, many cows, horses and animals like that, but in terms of numbers... this was the largest incident of this scale ever attended by NIFRS."
Mr Somerville added that the concrete slats over the tank had failed and "when one pig goes down in, the rest will tend to, out of curiosity as much as anything, follow on afterwards."
He explained that firefighters are often called to rescue animals from slurry accidents, albeit not on this scale, and it is a risky situation for all involved.
"The dangers of slurry, with sulphur dioxide and the dangerous gases that can be present in that slurry, it's a very hazardous environment," he said.
"We have emergency teams standing by, should any of the firefighters be overcome or suffer in any way when they're in there to rescue them.
"So it's a very protracted, complex and dangerous type incident."